North Georgetown District 11 finished atop the points standing of the  52nd edition of the Guyana Teacher Union (GTU)/Ministry of Education/Digicel National Schools Swimming Championships held yesterday at the National Aquatic Centre at Pattensen.
North Georgetown aggregated 451 points to secure first place while defending overall champions Upper Demerara (District Ten) finished second with 314 points. Cuyuni/Mazuruni (District Seven) placed third with 237 points followed by East Georgetown (District 12) fourth with 180 points and Rupununi (District Nine) fifth with 123 points.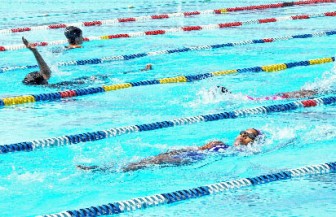 North West placed sixth with 108 points while West Demerara finished seventh with 75 points, New Amsterdam/Canje, eighth with 45 points, East Coast Demerara, ninth with 43 points and Essequibo Coast 10th with 38 points. Potaro/Siparuni (31.5 points) edged out South Georgetown (31 points) to avoid last place.
North Georgetown and its star-studded team dominated nearly every age category and finished with two commanding performances in the 4×50 freestyle relay across the width of the 50m pool(which was how the pool was utilized for the entire competition). North's male team finished close to 25m ahead of the second place team but was disqualified from that race after their second leg dived into the pool before the first leg touched the wall.
The girls' team, anchored by Olympian Britany van Lange, was much more patient and they managed to gap the competition by an even larger margin than the boys. Van Lange, who turned 16 just last week, was placed in the Open category and still dominated her opponents. She secured mammoth victories in the girls' Open 50m freestyle (29.71s), the 50 breaststroke (40.56s) and the 100m freestyle (1:03.68s) events. While van Lange's performance clearly merited the age group champion trophy, she may have to share that honour with North Zone teammate Soroya Simmons who similarly won her three events. Simmons clocked 1:25.63s to wrap up a convincing win in the 100m backstroke before returning to win the 50 butterfly (38.99s) and the 50m backstroke (39.15s) events.
Accalia Khan and Jamila Sammoogan ruled the girls' under-16 category for North Zone with six wins between them. Khan won the 50m and 100m freestyle and the 100m breaststroke events while Sammoogan won the 50m backstroke, butterfly (35.94s) and breaststroke events (45.92s).
North Georgetown's Hannibal Gaskin (27.47s) was stunned by District Seven's Donovan Washington (27.21) who managed to touch the wall shades of a second faster than Gaskin to win the boys' Open 50 freestyle event. Gaskin did avenge that defeat by winning both the 50m butterfly (29.78s) and 100m freestyle (1:00.58s) events later in the day. Joseph Seguina, who has been selected by the local swimming fraternity to represent Guyana at the next FINA World Short Course Swimming Championships, won the Open 50m breaststroke and 100m backstroke events for North Georgetown.
Another District 11 headliner, Athena Foo, was also dominant in the girls' U18 category winning the 50m backstroke and breaststroke events, as well as the 100 backstroke race while Onika George won the 100m freestyle event. In the girls' Under 12 category North Zone's Sarah King won the 50m freestyle while placing second in the 50m backstroke which was won by Amy Grant of District 12, who incidentally placed second in the 50m backstroke.
Boys Under 12 campaigner Nathan Hackett doubled up with a pair of victories in his two events, the boys 50m freestyle and the 50m backstroke. District 10's Nikita Fiedtkou also won the girls' under- 15 50m freestyle event.
Comments

Anil Nandlall Former Attorney General Anil Nandlall today rejected an explanation by Minister of State, Joseph Harmon over the government's directive to the Police Service Commission to halt promotions.

The improvised weapons (Prisons photo) Prison Staff this morning with the support of the members of the other services, reported for duty at the new holding area lusignan Prison.

Nicolas Maduro CARACAS/LIMA, (Reuters) – A group of 12 regional nations plus the United States rejected Venezuela's new government-allied legislative superbody, saying they would continue to regard the opposition-controlled congress as the country's only legitimate law maker.

Eighteen prisoners at the Lusignan penitentiary were being treated for injuries last night following a reported attempt to kill a fellow inmate during which warders fired shots.

A 12-year-old girl is now dead, while her brother narrowly escaped a similar fate yesterday after their aunt's La Bonne Intention (LBI), East Coast Demerara house, which they were under, collapsed on them.