Mahendra Narine, the seaman who was hacked to death at Bonasika Creek last Thursday during an attack by his girlfriend's ex-partner, will be laid to rest today at the Lancaster Cemetery.
Indranie Sookhoo, one of Narine's aunts, told Stabroek News that he would be buried after a funeral service that will be held at his Mahaica home.
Narine, 22, of Unity, Mahaica was pronounced dead on arrival at the Leonora Hospital after the attack that was allegedly carried out by Davindra Persaud. Narine was chopped about his body with a cutlass.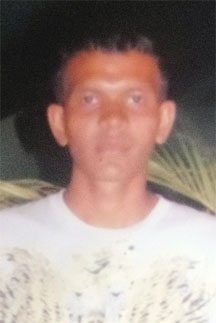 A post-mortem examination on Narine's body, conducted by government pathologist Dr Nehaul Singh, affirmed that Narine died from multiple incised wounds.
Persaud is in police custody after turning himself over to the police. Stabroek News was told that he would likely face charges in a matter of days.
The woman that Narine was with at the time, Joy Meyers, was also chopped about the body in the attack and had her left hand severed.
Meyers is a patient at the Georgetown Public Hospital's Female Surgical Unit, where she is recovering.
Comments

The Guyana Power and Light (GPL) says that just after midday today, three armed bandits stormed its Parika Customer Service Centre; robbing the location of all revenues received up until that time, holding the  staff and customers at gun point and disarming a security guard of a gun.

The Management of Cheddi Jagan International Airport Corporation (CJIAC) is currently undertaking a massive expansion project  and a Temporary Arrivals Terminal Building was recently constructed.

Tourism Minister Shamfa Cudjoe announced the decision to close the company. (Trinidad Express) The Tourism Development Company (TDC) has ceased operations.

Cevons clearing city garbage WPA STATEMENT ON THE UNRESOLVED ISSUE OF GARBAGE COLLECTION IN THE GEORGETOWN MUNICIPALITY The WPA is deeply concerned that the Georgetown City Council's inability to honour its financial obligations to Cevons Waste Management and Puran Brothers has the potential of endangering the health and lives of citizens.
British High Commissioner to Guyana Greg  Quinn  yesterday said that it was hoped that more would have been done to push the constitutional reform process forward.