A Guyana Defence (GDF) Force Coastguardsman is missing and presumed dead after he fell overboard in the Pomeroon River around midnight on Sunday.
Ordinary Rating Darwin Simon, 22, of Lot 47, Norton Street, Werk-en-Rust, fell overboard at the Coastguard's floating base in the Pomeroon River, where he was station, the GDF said.
His body was still to be recovered up to press time last night even as his mother expressed doubts about the explanation she has received so far.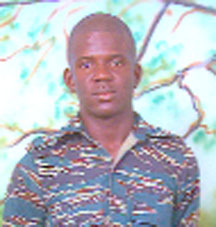 Simon and two other ranks had just finished mooring their boat alongside the floating base at midnight on Sunday when it is reported he fell into the river, according to the army. Efforts by the ranks to save him were unsuccessful but searches are currently in progress to recover the body and a Board of Inquiry has been established.
But Simon's mother Diana Mitchell was sceptical about the report that her son fell overboard. "They told me he fall ova board and one saying he hat fall off and he jump fuh it… You don't know what happen to this child," she said, relating the information that was given to her by army representatives who visited her home yesterday morning. They told her to give them up to today to retrieve his body.
But Mitchell told Stabroek News that her son had called his girlfriend on Sunday and told her that he was trying to come out of the Pomeroon as soon possible. She said it may be that something happened at the base that he did not like, prompting him to state his intention to get out.
The woman said her son had in the GDF for about two years and he was sent to the Pomeroon in early November. Simon had told her that he did not like the idea of his deployment to the area and she too had concerns, fearing that one day she would be greeted with bad news.
Mitchell yesterday was trying to understand what she was being told about her son's death from officials in the army, since she believed something was missing from the account given to hers. "A coastguard must have on a life jacket," she reasoned. "So, how come he drowned? Or did he not have on a life jacket?"
Her son, Mitchell said, was a good swimmer and very intelligent, which were more reasons why she found it hard to believe that he just fell overboard. "I am going to get my justice. I am not letting it go. Is my one boy child… dem three men who went pun dah boat with me child know how he dead and dem gone got to tell me how," she stated.
Comments

UN experts condemn racist violence in U.S., urge investigations GENEVA, (Reuters) – United Nations human rights experts called on the United States today to combat rising racist violence and xenophobia and to prosecute perpetrators of hate crimes.

The twin-engine Beech aircraft seized by authorities on an improvised airstrip on Sunday in the North Rupununi, Region Nine area, was yesterday confirmed as bearing a registration number belonging to an investment company in Brazil.

ExxonMobil yesterday signed a deal with Guyana Shore Base Inc (GYSBI) for an onshore support facility at Houston on the East Bank of Demerara.
While students who sat Caribbean Examination Council (CXC) exams in May and June of this year will be able to access their results online on Friday, the Ministry of Education has already announced that Guyana has recorded a 7% increase in passes at the Caribbean Advanced Proficiency Examinations (CAPE).

A post-mortem examination is expected to be done today to determine the cause of death of a nine-month-old baby, who died on Monday after she was left in a car.