Dexter Mosley, who pleaded guilty to manslaughter for the killing of his aunt Lakha Latchmi Abrams, aka 'Pinkie', was sentenced to 22 years in prison by Justice Navindra Singh in the High Court yesterday.
Mosley will only serve 14 years behind bars after the judge deducted the 6 years he spent in prison as well as two years for his guilty plea.
Justice Singh stated in his summing up that Mosley did not show any mercy or remorse for his actions which caused the death of his aunt, who took him in after he was deported to Guyana.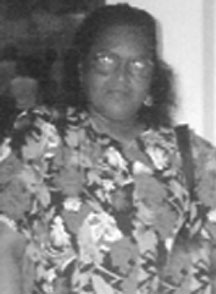 Mosley told the court before Justice Singh handed down his ruling that there was nothing he could do to bring back the life that was lost, while asking for the court to have mercy on him.
A probation report was also presented to the court on his behalf, after which the prosecution, which was represented by Konyo Thompson and Renita Singh, presented the facts of the case.
Abrams, aka 'Pinkie', was found dead in her bed at her Speightland (Lower Kara Kara) home on February 6, 2007. Mosley was at home with her at the time and had planned with another guy to rob his aunt.
The other person carried out the robbery which resulted in the death of Abrams. Mosley had claimed that he was in the house watching television when a man entered the house with a cutlass and robbed them. After the incident Mosley and the tenant then went to check on his aunty and it was then that they discovered that she was dead.
However, neighbours reported that they saw Mosley and a tenant who resided downstairs walking in the yard. Two gold bangles and cash were missing from the house.
Defence counsel Latchmie Rahamat stated in her mitigating plea that her client was sickly and remorseful for his action and as such she was asking the court to be lenient with him.
Before handing down his sentence, Justice Singh reminded Mosley that it was the said aunt who sheltered in his time of need; that he did not show any mercy when he killed her but he was asking the court to have on him.
Thus, the judge only took two mitigating factors into consideration in handing down his sentence which will see Mosley spending the next 14 years of his life away from society.
Comments

UN experts condemn racist violence in U.S., urge investigations GENEVA, (Reuters) – United Nations human rights experts called on the United States today to combat rising racist violence and xenophobia and to prosecute perpetrators of hate crimes.

The twin-engine Beech aircraft seized by authorities on an improvised airstrip on Sunday in the North Rupununi, Region Nine area, was yesterday confirmed as bearing a registration number belonging to an investment company in Brazil.

ExxonMobil yesterday signed a deal with Guyana Shore Base Inc (GYSBI) for an onshore support facility at Houston on the East Bank of Demerara.
While students who sat Caribbean Examination Council (CXC) exams in May and June of this year will be able to access their results online on Friday, the Ministry of Education has already announced that Guyana has recorded a 7% increase in passes at the Caribbean Advanced Proficiency Examinations (CAPE).

A post-mortem examination is expected to be done today to determine the cause of death of a nine-month-old baby, who died on Monday after she was left in a car.