A joy ride in Demerara River at West Watooka, Linden turned tragic on Sunday, leaving seven-year-old Leon Daniels dead.
The boy, who resided in Kwakwani had travelled to Linden for his little sister's birthday on Sunday, a cousin at the West Watooka home said.
The cousin told this newspaper that shortly before 2 pm, Daniels' half-brother, 17-year-old Brian Lewis, decided to give Daniels and a four-year-old a joy ride out in the river.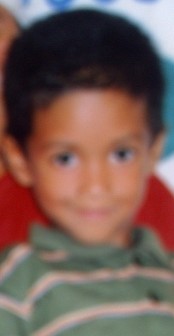 She said that their grandmother called them back because it was time for Daniels to prepare to return to his parents in Kwakwani.  "As he was turning around de boat it turn ova," the cousin recalled.
The incident occurred some distance off shore and according to eyewitnesses, Lewis managed to pull the four-year-old. "But he search fuh Leon and he ain find he," the cousin said.
Several minutes passed then a neighbour decided to go into the river in search of the lad. "… And he find Leon trap between the boat engine and he pull he out," she said.
It was said that by then the police and other concerned persons were on the scene. Daniels appeared lifeless when he was pulled from the river and he was pronounced dead at the Linden Hospital Complex (LHC).
Prior to the seven-year-old being recovered from the river, his grandmother, in whose care he was at the time, collapsed and had to be rushed to the LHC where she remained up to press time.
Police said in a press release yesterday that Lewis, who they named as Daniels' uncle, had been arrested and was in police custody assisting with investigations.
Comments

The improvised weapons (Prisons photo) Prison Staff this morning with the support of the members of the other services, reported for duty at the new holding area lusignan Prison.

Nicolas Maduro CARACAS/LIMA, (Reuters) – A group of 12 regional nations plus the United States rejected Venezuela's new government-allied legislative superbody, saying they would continue to regard the opposition-controlled congress as the country's only legitimate law maker.

Eighteen prisoners at the Lusignan penitentiary were being treated for injuries last night following a reported attempt to kill a fellow inmate during which warders fired shots.

A 12-year-old girl is now dead, while her brother narrowly escaped a similar fate yesterday after their aunt's La Bonne Intention (LBI), East Coast Demerara house, which they were under, collapsed on them.

Guyana has officially applied for membership in the European Union's Extractive Industries Transparency Initiative (EITI) which will help in tracking revenues from oil and other natural resources.