A fire yesterday afternoon destroyed the home and business place of grass track racer Dwarka Gangadin, who was almost a month ago freed of murdering his wife, Bridgette Gangadin.
Conspiracy theories abounded as neighbours gathered in front of the Lot 3 'A' Lusignan, East Coast Demerara property. Although some persons believed the word of a 15-year-old eyewitness that the fire was electrical in origin, others suggested that it might have been arson, while some contended that the fire could have started in the family-owned Kutt's Furniture Store.
Gangadin's 15-year-old son, Kapel Gangadin, told Stabroek News that he was at home with his two younger cousins, the children of his father's sister who occupies the home as well, when they heard a knocking sound coming from the upper flat. "Me and dem girls been downstairs when we hear de knocking and we went up to see and is right in the middle room we see de flames coming… I hold them and bring them back downstairs out de house and I run and fetch bucket, bucket of water but by time I run up back is bigger de blaze getting," he recalled, adding that the flames appeared to have been coming from an air-conditioning unit in the room.

He explained that after he realised he was not making much of an impact on the fire, he ran outside and a few workmen in the area formed a bucket brigade in a desperate attempt to contain the fire. "Dem boys come but couldn't do nothing… We hussle to bring out de things," the boy related. On the parapet furniture was seen thrown haphazardly while family members assisted in packing the few items which were saved in the trays of trucks.
Stabroek News observed three fire engines working along with one belonging to the LBI Estate. Two sections of one of the hoses had punctures and a significant amount of water was escaping as fire fighters tried to extinguish the fire. This newspaper was made to understand that the fire started some time around 5 pm, but up to 7 pm, fire fighters were still on the scene. The entire front wall of half of the building which houses three floors remained upright as well as a little framework on the second storey of one half of the concrete building.
On the scene, several persons spoke of a recent dispute Dwarka Gangadin had with his father, Rudolph Gangadin, who is the owner of the property. According to persons, who preferred to be unnamed, the fire started in Dwarka Gangadin's bedroom. He was not at home, but in the village. "Gangadin went at de back of the village… I believe is arson because of how quick the place engulf. Yesterday he father went back to de states because de two of them had a big buse out… He run father out with cutlass…," one man stated.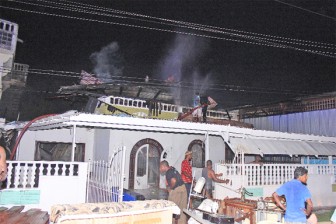 Dwarka Gangadin, who was accused of murdering his wife Bridgette in 2010 was freed almost a month ago freed after the Director of Public Prosecutions (DPP) reviewed the evidence in the case and this development had shocked the woman's relatives.
Bridgette's mangled remains were discovered on the Vigilance Public Road, a short distance from the entrance of the police station, around 2.25 am on May 2, 2010.
According to the relatives, Bridgette, 29, and her husband Dwarka, had left their Lusignan home the night before and travelled to Enterprise where they were expected to go shrimp-catching with some friends. However, the trip was aborted and the couple left and it was believed that they were heading home. About an hour later Dwarka returned to the Enterprise home without his wife and when questioned about her he did not answer. The police were contacted and he was arrested. Dwarka had reportedly told investigators that his wife had jumped out of the truck and he accidentally ran over her head. Government Pathologist Dr Nehaul Singh conducted an autopsy the following day, concluding that it was crushing injuries to the head caused by a wheel and a fractured skull that had caused Bridgette's death.
The woman's relatives were adamant that Dwarka had killed her and requested that an independent post-mortem examination be done. They hired Trinidadian Pathologist Professor Hubert Daisley and a report on his findings, which had been submitted to the Criminal Investigation Department Headquarters, Eve Leary said, among other things, that there was evidence of strangulation.
Comments

UN experts condemn racist violence in U.S., urge investigations GENEVA, (Reuters) – United Nations human rights experts called on the United States today to combat rising racist violence and xenophobia and to prosecute perpetrators of hate crimes.

The twin-engine Beech aircraft seized by authorities on an improvised airstrip on Sunday in the North Rupununi, Region Nine area, was yesterday confirmed as bearing a registration number belonging to an investment company in Brazil.

ExxonMobil yesterday signed a deal with Guyana Shore Base Inc (GYSBI) for an onshore support facility at Houston on the East Bank of Demerara.
While students who sat Caribbean Examination Council (CXC) exams in May and June of this year will be able to access their results online on Friday, the Ministry of Education has already announced that Guyana has recorded a 7% increase in passes at the Caribbean Advanced Proficiency Examinations (CAPE).

A post-mortem examination is expected to be done today to determine the cause of death of a nine-month-old baby, who died on Monday after she was left in a car.