A mother of three was spared what could have been a serious attack after neighbours intervened as her abusive husband went after her with a grass- knife on Tuesday evening in the Abary Creek.
Rajpattie Kurhair, 23, said her husband, Hemchand Kalamudeen got angry after she rebuked him for "peppering" their three-year-old son, Vicky.
The child who is unable to speak went to his father for some of the dinner he was eating at the time. The woman said there was no food in the house and she went out earlier to beg the neighbours for something to cook whilst her husband consumed alcohol.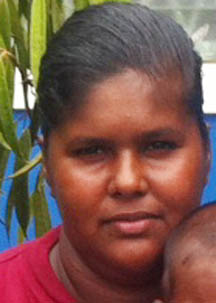 Instead of giving him the food the man forced pepper sauce into the boy's mouth. Their two other children, Christine, 5, and one-year-old Ricky were already asleep.
The child started screaming and the man got angry and threw the pepper on his face and eyes. The mother, responding to the child's screams, grabbed him and gave him a bath and pacified him.
She then started to quarrel with Kalamudeen and they ended up in a "scramble." The man who was in a rage overpowered her and continued to beat her with his hands and then with a belt before using a cutlass to broadside her.
But he was not satisfied and threatened to "kill yuh (expletive)" and ran her around the yard with the grass knife until he caught up with her.
Her loud screams attracted the attention of the neighbours who got there in time and managed to throw him on the ground and wrest the grass knife away from him.
He then started to verbally abuse the neighbours after they intervened and ran back into the house with the three children and locked the door.
By then the two other children woke up and started to cry after they did not see their mother but he refused to allow them to go with her.
In the meantime, Kurhair borrowed the neighbours' cell phone and called her parents and brothers at Bush Lot, West Coast Berbice.
She also peered into the house constantly to ensure that the man was not hurting the children.
The neighbours also protected her until her relatives came "a long time" after to rescue her and the children.
Kalamudeen was shocked when they arrived and he handed over the children but without their belongings.
The relatives had made a report at the Fort Wellington Police Station before going into the creek. The following day Kurhair had to visit the station to make a statement.
The man learnt that the police were looking for him and he turned himself in on Friday afternoon in the company of a relative. He is expected to face charges sometime this week.
Meanwhile, Kurhair said the man would beat her for "any least thing… he does mek fight fuh anything," especially after consuming alcohol.
He had started to abuse her from around 9 am on the same day. "He tek the fork and beat me and meh neighbour, a big man, ask he 'why yuh beat she like dat? She na cow or beast' but he wouldn't hear. The man come over and talk to he and so," she recalled.
He had already given her a thrashing before abusing the child. She believes that the man did not care for the child.
She said too that he would find an excuse to verbally and physically abuse her and would accuse her of being involved "with other people man… And he seh me mammy come by you [reporter] and put he in the papers that he does drink nuff rum."
Kalamudeen would also have his male friends drinking at their home much to the woman's dislike. He would also send their five-year-old daughter to purchase rum and cigarettes and when she refused he would beat her.
Kurhair said "sometimes the child would go halfway and turn back and say she din get but sometimes he don't believe and he does send she back."
She has had cause to leave him on many occasions but would always return because of the children. She did not want to burden her parents who were also struggling.
This time, however, she said she has had enough and vowed never to reconcile because she fears for her life and that of her children. She knows that somehow they are going to survive.
After she got married six years ago she lived with the man at Rosignol. He was hardly working.  When she had her first child she became frustrated after he would punish her and the child and deprive them of food. She  attempted suicide.
She ended up being locked up at the Blairmont Police Station while the man continued with his drinking habit.
She moved to the Abary Creek with him last year after he got a job there as a labourer and he promised to change.
But the situation got worse because he would hardly go out to work even though "dem bai does come and call fuh he."
Most of the time she depended on her parents to supply her with food items. When they are unable to send she would have to beg the neighbours.
At one time she packed up and left with the children but "the bossman call and me go in back."
Comments

Defeat Tallawahs by 37 runs Chris Gayle, playing in his 50th CPL match, produced his 63rd T20 fifty as St Kitts & Nevis Patriots cruised past Jamaica Tallawahs by 37 runs to guarantee a place in the playoffs for the first time in their three-year history.

The Guyana Football Federation (GFF) has officially selected the Boys and Girls teams which will represent the nation at the Inter-Guiana Games (IGG) Goodwill Series scheduled for Suriname from the August 25th– 27th.

The Commission of Inquiry (CoI) into African ancestral land ownership began hearings yesterday with a significant portion of the first day's proceedings being dedicated to questions pertaining to the allocation of lots in the controversial 'Pradoville 2' Housing Scheme.

For another year, the opening of the National Toshaos Council (NTC) Conference was dominated by concerns about land rights, with Chairman Joel Fredericks yesterday calling out the APNU+AFC government for making decisions that affect land ownership without first seeking the Free, Prior and Informed Consent (FPIC) of affected Indigenous groups.