Prem Misir, Chairman of the National Communications Network (NCN) Board of Directors, says the closure report on financial irregularities at the state-owned broadcaster remains with the Head of State and Minister of Information Donald Ramotar, who is yet to offer his advice.
"The President has been in and out… I think he just returned from Peru although I can't say for sure but I sent him the report and it's on his desk," Misir told Stabroek News yesterday.
Head of the Presidential Secretariat Dr Roger Luncheon last month announced that the board had completed its probe and that the results were with Ramotar. Luncheon at that time acknowledged that he had seen the report but refused to disclose whether there were any recommendations for dismissals.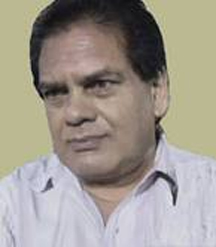 Misir yesterday only reiterated that the report was done and that the President is still in possession of it. "The reason the President is involved is technically because he is the Minister of Information [and] so he got the closure report.
He agreed to look at it expeditiously," he said. "I think [Programme Manager Martin] Goolsarran's unpaid leave is still happening, that has not changed. The President has to make that decision," Misir added.
The board launched an investigation in June into suspected financial irregularities at the network. Chief Executive Officer Mohammed 'Fuzzy' Sattaur subsequently resigned, while Goolsarran was later sent on administrative leave in relation to a $3.9 million cheque made payable to him by telecommuication company GT&T as an incentive for the production team that worked during the company's jingle and song competition, held between September last year and February this year.
Sattaur's quitting and Goolsarran's suspension coincided with the resignation of Yog Mahadeo, the then chief executive officer of GT&T.
It was GT&T's payments to NCN for services that triggered the investigation.
Parmesar Chartered Accountants was hired to carry out a special investigation into the alleged financial irregularities and several breaches were uncovered.
Comments

Vamanadev Hiralall, of the privately-run Saraswati Vidya Niketan (SVN), is the country's top performer at this year's Caribbean Advanced Proficiency Examinations (CAPE) after achieving an accumulated 13 grade one and 3 grade two passes.

Twenty-six students in the top one percent of the 12,684 who sat this year's Caribbean Secondary Education Certification (CSEC) examinations earned 12 or more Grade I passes, with half of them, including the top performer, coming from Queen's College (QC).

On the second day of the Commission of Inquiry (CoI) into African ancestral lands and other matters, four witnesses made cases for the return of lands they feel they are rightly entitled to, which were either taken by the state or occupied by private owners.

Shelton George, the man charged with both murdering a waitress at a Chinese restaurant and the attempted murder of a magistrate, was found dead in his cell at the Lusignan Prison yesterday morning.

The Chairman of the Triumph Neighbourhood Democratic Council (NDC) yesterday instructed workers employed on a private site, reportedly intended to build a first-floor pool, to cease operations, just two days after residents called on authorities to halt its construction.