800 house lots allocated for high-income earners at Herstelling
The Ministry of Housing on Monday continued its 'One Stop Shop' house lot allocation exercise, with 800 lots up for distribution for high-income earners at Herstelling, East Bank Demerara.
According to the Government Information Agency (GINA), the lots, valued at $1.2M to $2.5M, were for persons within the high-income range – $140,000 – $600,000 – since the land is located near to gated communities, the capital and the Guyana National Stadium at Providence.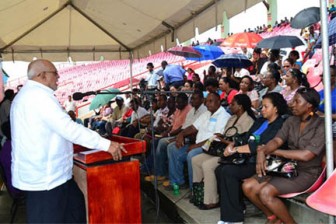 Allottees, at the allocation exercise hosted at the Guyana National Stadium, were encouraged to start building and avoid repossession, which the ministry is imposing on landholders who have not started construction after several years.
President Donald Ramotar, who witnessed the exercise, encouraged the allottees to view the process as the first step toward owning their own homes. "Having a home of your own provides an enormous amount of feeling of security and a feeling of contentment and a more settled mind, and it gives our people dignity too," GINA quoted him as saying.
Most Read This Week