-shipper, assistant held
A China-bound shipment of cocaine disguised as fish food and worth $2 billion was yesterday unearthed by ranks of the Drug Enforcement Unit of the Guyana Revenue Authority (GRA), who also reeled in the shipper and his assistant.
The cocaine was discovered in bags of fish food in a container at the Guyana National Shipping Company (GNSC) wharf yesterday morning. This bust follows another on Thursday during which ranks of the Guyana Police Force discovered 46 pounds of cocaine in drinking straws at the Cheddi Jagan International Airport.
"The drugs were discovered by officers of the GRA Drug Enforcement Unit (DEU) and Good Examina-tion Unit (GEU) after the container, packed with bags of fish food, was flagged for secondary examination by the Container Scanner Unit," a statement from the GRA said. "The examination was conducted in the presence of Mr Gilbert Bristol of 154 Garnett Street, Newtown, Kitty, Georgetown to whom the consignment belonged," the statement said.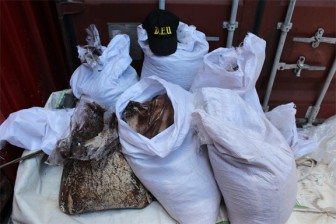 The cocaine, in the form of pellets (disguised as fish food) was discovered so far in eight of 1500 bags of fish food, the GRA said, adding that the consignee was Angel International Logistics Ltd in China. "The Customs Anti Narcotics Unit (CANU) was alerted and subsequently came to the scene and took possession of the drugs. The shipper and his assistant were detained and are assisting with the investigation as the DEU continues with the examination of the cargo in the presence of CANU," the statement said.
Head of CANU, James Singh, when contacted, confirmed that his unit is investigating the bust and that the shipper and another person are in custody. He said there were three containers of fish feed but the drugs were found in one. Because the cocaine was in pellet form among the fish feed, the CANU head said it was difficult to determine the amount and his officers will now have to painstakingly go through each bag and separate the cocaine from the fish feed.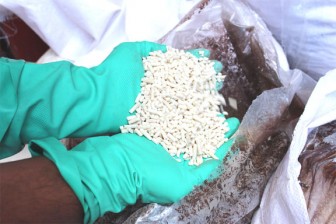 The GRA, in its statement, said that recently officers of CANU teamed up with GRA officials to train several officers of the DEU in the detection of narcotics. The officers were given testing kits which were used to test the suspected substance. It commended the officers of the DEU for their diligence.
This latest bust follows another on Thursday when officers of the police anti-narcotics unit discovered 46 pounds of cocaine in drinking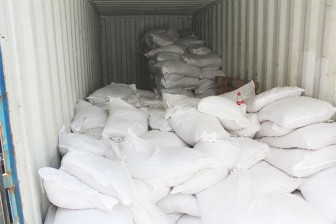 straws, which were made to look like macaroni and then hidden in boxes of mangoes destined for Canada. Four persons were nabbed.
According to a police statement, at around 3.30 am, acting on information received, ranks at the Cheddi Jagan International Airport, Timehri conducted a search of boxes of mangoes consigned for shipment to Canada. A total of 21 kilogrammes, 874 grammes of cocaine were found concealed in macaroni boxes which were among the mangoes.
These two latest busts again raise the question of drugs continuing to find their way into Guyana and only being discovered when they are about to leave these shores or would have already left. Just over a week ago, another cocaine-laden shipment was intercepted by law enforcement ranks. Last week Thursday 327.7 kilogrammes of cocaine were found concealed in packages of Foam and Breeze soap power which were in a container at the John Fernandes Limited terminal on Mandela Avenue.
The shipment was flagged for secondary examination by the Container Scanner Unit. The examination was done during a four-day period. The total weight of the drugs found in clear plastic bags was over 300 kilos, worth US$10 million and the consignee was identified as Okeke Michael Okwudili, 26 Nacho Shed, Maradi, Niger.
Prior to that, a container from Guyana was intercepted in Malaysia with cocaine worth RM22 million in tins of coconut milk. It is believed that a Nigerian drug syndicate was behind that shipment.
Following local investigations, two men, Vijay Bisraj, 25, of Lot 57 Section 'B' Non Pareil, East Coast Demerara and Looknaught Denasur, the manager of a Guyana-based packaging plant were arrested and charged. Denasur pleaded guilty and said he was paid an initial $100,000 with a promise of $1 million if the drugs reached their destination. He was sentenced to four years imprisonment.
Bisraj, a seaman, denied that he sealed a number of tins labelled as coconut milk. It was alleged that prior to his present profession he was an expert in the sealing of metal tin caps at a factory at Coldingen, ECD.
Stabroek News understands that recently a special unit comprising ranks from CANU, GRA and the police narcotics branch was established amidst concerns that smugglers are increasingly using Guyana as a transshipment point for drugs. Ranks have also been put on alert that smugglers are coming up with ingenious ways to conceal the illegal drug.
Comments

Wijeyadasa Rajapakshe   COLOMBO, (Reuters) – Sri Lankan President Maithripala Sirisena today sacked the justice minister over his criticism of a $1.1 billion deal, signed last month, to lease a port to a Chinese company, the cabinet spokesman said.

NEW YORK,  (Reuters) – Two Harvard University researchers said in a study published today they had collected scientific data proving Exxon Mobil Corp made "explicit factual misrepresentations" in newspaper ads it purchased to convey its views on the oil industry and climate science.

In the wake of rising bad loans and a massive alleged fraud against it this year, the Guyana Bank for Trade and Industry (GBTI) has posted an unaudited net after tax profit of $603m for the first six months of this year compared to $961m in the same period for 2016.

Vamanadev Hiralall, of the privately-run Saraswati Vidya Niketan (SVN), is the country's top performer at this year's Caribbean Advanced Proficiency Examinations (CAPE) after achieving an accumulated 13 grade one and 3 grade two passes.

Twenty-six students in the top one percent of the 12,684 who sat this year's Caribbean Secondary Education Certification (CSEC) examinations earned 12 or more Grade I passes, with half of them, including the top performer, coming from Queen's College (QC).