Eleven charitable organisations each received a cheque valued $100,000 from the P&P Insurance Brokers & Consultants Limited yesterday.
The contribution, given to the organisations that have been making a positive impact on the lives of the less fortunate, was done especially for the festive season.
Representatives of Bless the Children Home, Canaan Children's Home, Hauraruni Girls' Home, Ptolemy Reid Rehab Centre, Guyana Greenheart Autistic Society, Uncle Eddie's Home, Archer's Home, The Dharm Shala, David Rose School for the Handicapped, Cheshire Homes Guyana and Bright Horizon Family thanked Mr and Mrs Bish Panday personally for their wonderful contribution.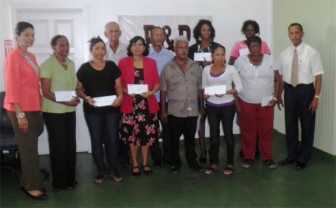 Bish Panday said, "P&P has tried in its own small way to reach out to the community and to assist.
Today is another manifestation of that commitment which we hope to continue with in the future."
Sandy Allicock, representative of Archer's Home said, "On behalf of Archer's Home, we are grateful for the contribution which we will be able to put to good use." She also stated that Archer's Home would welcome contributions from other organisations.
Comments

(Trinidad Guardian) Education Minister Anthony Garcia says the University of Trinidad and Tobago (UTT) is of the view that the organisation is "overstaffed and to run the university efficiently it will mean they have to trim fat." But former Tertiary Education Minister Fazal Karim is warning that the decision to retrench 287 staff members, will "compromise the quality of teaching and learning and administration at the university," and may impact its accreditation with the Accreditation Council of Trinidad and Tobago (ACTT).

In preparation for Guyana's emerging oil and gas sector and the bustling business usually synonymous with the industry, the Pegasus Hotel is expected to undergo a huge expansion which includes office and residential rental spaces.

Police Commissioner Seelall Persaud is to resume his duties today after spending approximately six months on leave, Public Security Minister Khemraj Ramjattan yesterday confirmed to Stabroek News.
The Alliance For Change (AFC) yesterday launched a scathing attack on the union GAWU, accusing it of decades of sabotage of the sugar industry and not genuinely representing the interests of its workers.

The importance of foot health, especially for persons with diabetes, was emphasized by Podologist Yvonne Braithwaite yesterday, when she launched the local leg of Rovon Health Care Inc, which includes a foot spa.