P&P Insurance Brokers gives $1.1M to charity
Eleven charitable organisations each received a cheque valued $100,000 from the P&P Insurance Brokers & Consultants Limited yesterday.
The contribution, given to the organisations that have been making a positive impact on the lives of the less fortunate, was done especially for the festive season.
Representatives of Bless the Children Home, Canaan Children's Home, Hauraruni Girls' Home, Ptolemy Reid Rehab Centre, Guyana Greenheart Autistic Society, Uncle Eddie's Home, Archer's Home, The Dharm Shala, David Rose School for the Handicapped, Cheshire Homes Guyana and Bright Horizon Family thanked Mr and Mrs Bish Panday personally for their wonderful contribution.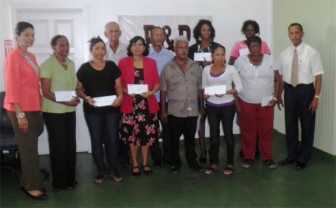 Bish Panday said, "P&P has tried in its own small way to reach out to the community and to assist.
Today is another manifestation of that commitment which we hope to continue with in the future."
Sandy Allicock, representative of Archer's Home said, "On behalf of Archer's Home, we are grateful for the contribution which we will be able to put to good use." She also stated that Archer's Home would welcome contributions from other organisations.
Most Read This Week