EZjet Founder and CEO Sonny Ramdeo yesterday appeared in a Brooklyn New York Federal Court and reserved his bail application until he is extradited  to Florida where the case against him of fraud and embezzlement will be heard beginning later this week.
Meanwhile it was revealed in Parliament yesterday that the Transport Ministry will refund tickets purchased in Guyana only.
While Ramdeo was arrested on Wednesday in Brooklyn and made his first appearance at a court there that same day he will face trial in Florida as it is in that jurisdiction the alleged act of embezzlement occurred.
He is charged with embezzling US$20 million ($4 billion) from his former employer in a payroll tax fraud scheme. The US Federal Bureau of Investigation in a statement on Wednesday said that he was formally indicted on December 6.
One legal source here told Stabroek News that Ramdeo's attorney probably declined to pursue bail as he was not going to contest his extradition request made by the state of Florida as it made no sense. "If he had made the application for bail, it probably would not have been granted since he has a pending extradition case," the attorney said.
Ramdeo's legal troubles came shortly before the US Department of Transportation suspended its air service, throwing the airline into turmoil and leaving hundreds on both sides of the Atlantic stranded and out of pocket. Refunds have since begun.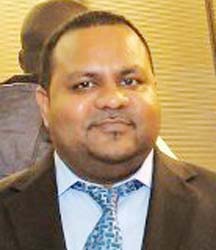 The Palm Beach Post in its online edition is reporting that Ramdeo, of Sunrise, Florida was charged with three counts of wire fraud, which could send him to prison for 20 years.
The indictment alleges that from September 2003 until October of this year, Ramdeo wired money into his accounts that was to have been used to cover payroll taxes for Promise Health-care's roughly 3,500 workers. He formed two companies, Payserv Tax and EZjet GT, to receive the money, prosecutors said.
The chain of private hospitals is owned by the same people who own the management company. They own hospitals in seven states. The only Florida location is Promise Hospital of Florida, the Palm Beach Post said.
According to the indictment, in 2011 and 2012 Ramdeo made two transfers, totaling US$363,700, to his account that was to be used for payroll taxes at a hospital in East Los Angeles. In October, he diverted US$100,828 that was to cover payroll taxes for employees of a hospital in Gonzales, La.
After reports that he was being sought by the FBI in the embezzlement case, Ramdeo apparently went into hiding but said via several press releases issued in EZjet's name that he was in contact with the FBI.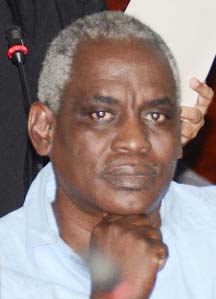 Meanwhile Minister of Transport, Robeson Benn yesterday informed that refunds by his ministry only covers tickets purchased in Guyana. As such persons who are under the jurisdiction of Canada and the United States will be refunded through their systems. Benn's response at the sitting of the National Assembly yesterday, was to an oral question from leader of the Alliance of Chance (AFC) Khemraj Ramjattan about the efforts the ministry is making to assist the refunding of passengers.
The EZjet passengers who purchased tickets in Guyana will be refunded by the government from the US$200,000 bond the airline had lodged here, Benn also stated.
Further, he said, his ministry received the list of passengers to be refunded on December 13 and was compiling it. He added, "A number of passengers will be refunded out of that account… I have since learnt EZjet may have received some money which will go into the refunding of passengers… We have to wait on the figures."
Benn was also asked whether the airline owed the government and he responded that some $2.6 million was owed to the Cheddi Jagan International Airport and $3,185,742 to the Guyana Civil Aviation Authority.
Ramjattan also asked the minister to indicate what background checks were made before granting permission for EZjet to operate here.
"Background checks revolved around business plans which were submitted by EZjet…," Benn responded. "The movement with respect to granting EZjet after some six to nine months of taking information for investigation related to permissions granted to EZjet by the US Department of Transportation and Canadian Government."
With regard to any investigation being done about the airline's collapse and the arrest of its founder, Benn stated that they are examining the matter with the agency which is responsible for it and will report to the government.
He continued, "We have not settled on any question of any expensive investigation beyond the administrative approaches we have taken at the present time… The issues that the Honorable Member mentioned about the sole incorporator of EZjet being in prison… We feel fundamentally that is a separate issue at this time."
EZjet had advised customers last week that though it had issued refund cheques, they should not to attempt to encash them as no money was available for payouts as the suspended airline winds down its operations. A visit to the airline's office on Brickdam yesterday found it locked tight with a notice on the door stating that the office will be closed for "a few days".
Angry EZjet passengers have been turning up at the airline's office for refunds only to be told that no money was available to pay them. EZjet had said that two-thirds of the passengers left in the lurch by the suspension of its air service had been refunded and only US$190,000 was outstanding.
Comments

President David Granger on Monday evening commissioned three new 35-seater buses, which will serve schoolchildren in the north and south areas of Georgetown under the 'Boats, Buses, Bicycles plus Breakfast and Books' or Five 'Bs' programme.
A 94-year-old pensioner was yesterday charged with forgery. It is alleged that Fritz Rupert Lewis conspired with persons and forged a transport, No.
A teen is now a remanded prisoner after he was accused of the gun-point stick up of a man.

Several candidates recorded outstanding performances at this year's Caribbean Advanced Proficiency Examination (CAPE).

 Geometric improvements will be carried out on the East Coast Railway Embankment Road come September for smoother traffic flow.