Residents of Agricola, East Bank Demerara and its environment will benefit from the increased presence of law enforcement officers in the area fter the opening of the Agricola Police Outpost yesterday.
The outpost is located on the public road above the Agricola Post Office and is expected to provide the community with 24-hour security.  It will serve as an important institution which will work in collaboration with the community to help make the area a crime-free zone, Commander of 'A' Division George Vyphius said.
The project has been in the making for a while but only came into being after the Guyana Post Office Corporation allowed the ministry occupancy of its upper floor.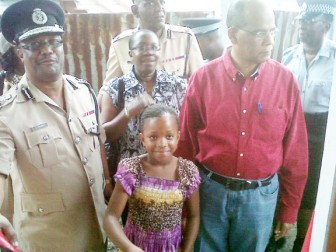 Minister of Home Affairs Clement Rohee, who declared the outpost open, said the community deserves a police outpost.
The minister added that when the presence of a police outpost is permanently established, it is in recognition that the majority of the people in the community and its environment uphold law and order.
The minister added, "the police are not reckless and won't go in a hot spot…we have techniques for dealing with those places."
The new outpost is expected to close the gap between the police force and the public, Commissioner of Police (ag) Leroy Brumell said in his address to the gathering.
The commissioner added that he hopes the outpost serves the community to the best and its service will be opened to all.
Comments

The Management of Cheddi Jagan International Airport Corporation (CJIAC) is currently undertaking a massive expansion project  and a Temporary Arrivals Terminal Building was recently constructed.

Tourism Minister Shamfa Cudjoe announced the decision to close the company. (Trinidad Express) The Tourism Development Company (TDC) has ceased operations.

Cevons clearing city garbage WPA STATEMENT ON THE UNRESOLVED ISSUE OF GARBAGE COLLECTION IN THE GEORGETOWN MUNICIPALITY The WPA is deeply concerned that the Georgetown City Council's inability to honour its financial obligations to Cevons Waste Management and Puran Brothers has the potential of endangering the health and lives of citizens.
British High Commissioner to Guyana Greg  Quinn  yesterday said that it was hoped that more would have been done to push the constitutional reform process forward.

A West Coast Berbice man died after he reportedly set his one-storey house ablaze sometime around 11.20 am yesterday.