The day before Plaisance businessman Deryck "Backatoo" Cox was fatally shot during a suspected robbery attempt at his business, the white car believed to have been used by his assailants for their getaway was seen slowly moving around the area.
The man's family, who was yesterday literally still picking up the pieces of what used to be his livelihood, has been told that no arrests have been made so far, but investigations are continuing.
When Stabroek News visited the deceased's residence, and the place where he was shot twice, family members were attempting to restore some semblance of order to the shop, especially the area near the entrance, where Cox had lain, just two days ago, gasping for breath.
Cox's son, Hilton Bernard, 43, of Bartica, told this newspaper yesterday that on Sunday he received a call from a friend who told him "yuh old man geh murder". Bernard said he travelled to Plaisance the same day. Cox was the father of 15 children and when asked about the whereabouts of his siblings, Bernard explained that two of them were in separate prisons and probably still unaware of their father's passing; there were several others who lived in the community, but were not around at the time; and a few others who lived in other villages but whose whereabouts he could not determine.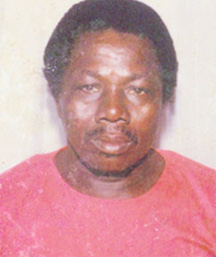 The post-mortem examination (PME) conducted on Cox's body yesterday concluded that the man died as a result of being shot twice through the heart. His nephew Marlon Temmott said he learned that while one of the bullets pierced his uncle's heart before exiting his body, the other was still lodged in his heart at the time of the PME.
A resident told Stabroek News that on the night before Cox was murdered, a white car, which did not have any number plates, was seen driving in the area, slowly. The resident said the movement of the car was very suspicious, but nothing much was thought of it. According to Temmott, he had been informed that the same car had been parked some distance from the shop, and that after shooting his uncle, the assailants made their way to the car then sped away.
'Rob he'
"They try fuh rob he but he mussy fight back, he was a big man so they cudda never wrestle he and beat he, that is why they shoot he," said Ayodele Hall, the man's great niece, who maintained her belief that he was shot during an attempt to rob him.
Hall explained that Cox was a very robust man, and despite his age, he was still very active and worked out regularly. She said that not only did he operate the grocery without assistance, but he could be seen regularly fetching large bags of rice, sugar and flour.
Though Hall said there were two attackers, she maintained that Cox would have easily been able to fend them off, had he not been shot.
Hall, whose residence is in the same yard as Cox's shop/residence, told Stabroek News that sometime around 10 on Saturday night she heard two gunshots ring out, after which the elderly man called out for help.
She did not dare to venture outside and instead she called Temmott, who was at a dance not too far away. By the time Temmott had arrived, the attackers had made good their escape, leaving Cox gasping for air at the entrance. Relatives and residents quickly coordinated transportation to get him to the hospital, but it was all in vain as he died five minutes into the journey.
According to a police release, both spent shells were recovered at the scene of the incident; one on top of a fridge and the other on top of a freezer. Both appliances were near the area where Cox was discovered. Stabroek News was told that both rounds were .32 calibre ammunition.
Hall had suggested that the men's easy escape was aided by the fact that there was a dance the same night which was attended by most persons who were still on the streets at that time. She also suggested that the men intentionally tried to rob Cox during the dance for that very reason.
"Nobody ain't really went round, so they had all the time to do what they had to do, de place did desolate," she said.
Though the latest, Saturday's attack was not the first or second time Cox's shop was the target of a robbery attempt. According to Hall, Cox had been robbed approximately three times before, during one of which he was broadsided with a cutlass. She explained that one night she heard what sounded like zinc sheets being tampered with.
The following morning they found that a few of the sheets had been raised, presumably by thieves attempting to get into the shop. On another occasion, she said she heard a suspicious sound outside her house. Upon looking through the window, she saw someone trying to pry open a loose board on the shop.
Both attempts were unsuccessful. On Saturday, however, the assailants were successful in breaching the shop, although the commotion seemed to prevent them from escaping with any money or other valuables.
This is the second robbery/murder to occur on the East Coast Demerara in a two-week period. On Sunday December 9, Kamall Ramsahoye, a 38-year-old Annandale businessman was found dead at his residence on the with 10 stab wounds about his body. A PME later concluded that the man died from haemorrhaging and shock dude to massive blood loss.
The murder baffled members of Ramsahoye's family, since his house was a virtual fortress, enclosed by a concrete fence which stands over 8 feet tall and with the only entry points to the yard being two metal fences, whose height matched that of the wall and which are outfitted with pointed fixtures on top. In addition to the external defences, each window and door of the house was securely grilled.
An individual had been held in connection with the crime but was released after evidence suggested no connection. There has since been no further development.
Comments

LONDON, (Reuters) – The gradual decline of West Indian cricket is hardly a new phenomenon but the latest capitulation of a once-dominant test match power has brought genuine expressions of sadness throughout the sport.

Eleven residents of the juvenile correctional centre at Onderneeming on the Essequibo Coast were apprehended between yesterday and this morning.

With growing pressure on the government over the overcrowding of jails, MP Michael Carrington is confident that the parliamentary bill in his name to ease penalties on marijuana use will gain the support of the governing APNU+AFC benches of which he is a member.
The National Toshaos Council (NTC) is to begin its conference today and high on the agenda will likely be ongoing concerns about the lands commission of inquiry (CoI) which the government has convened.
A Trinidad-based medical products company has secured four contracts worth $135.4m. According to the Ministry of the Presidency (MotP), Cabinet at its meeting on August 15,2017 noted the award of 16 multi-million-dollar contracts.