A Sisters Village, East Bank Berbice man was hacked to death yesterday morning in his bed and his suspected assailant is in the hospital after apparently ingesting poison.
The tragic murder which has rocked the area is that of 18-year-old Devon DaSilva which is still being investigated by police. His alleged assailant Roy Lewis is currently in the Intensive Care Unit (ICU) of the New Amsterdam Public Hospital after apparently ingesting a poisonous substance after committing the act.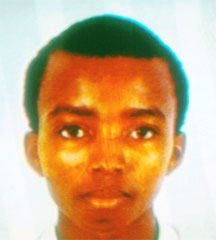 Yesterday when Stabroek News visited the gloom-struck village residents were discussing and expressing their grief over the killing.
Attempts to speak to the mother of the deceased were futile since she was too traumatized.
However, Stabroek News did speak to the deceased's girlfriend's mother, Gennis Whyte, who related what took place in the wee hours of yesterday morning.
Whyte related that Da Silva and Whyte's daughter, 18 year old Ashley "Toya" Whyte, had returned from a boxing night fair which was held at the community ground. Ashley was Da Silva's girlfriend. "They came home and Devon sit down stairs here [pointing to media houses] with me and a gaff, while Ashley went and buy a food for he," said Whyte.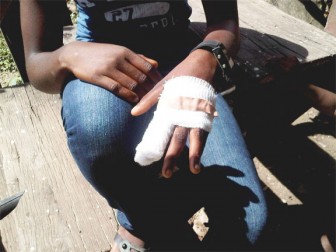 She said that around the same time she saw a shadow and asked 'who is it?' After she got no response, Whyte said she tried to see who it was but could not see anything. She therefore abandoned her investigation.
She said that Da Silva and his girlfriend eventually went upstairs to sleep. Later, Whyte said she noticed one of her sons, a police officer, leaving home to get back to work. She said she accompanied her son to the gate before returning to a hammock which is situated in her yard.
"I lay down in the hammock and I heard a loud stomping upstairs so I rushed up and I meet the door bolted and I kicked the door and shouted for Toya, but all I hear is she hollering. She then said mommy is Devon and Roy, which is when I called out to my husband "Percy" and tell he, "is Roy in the house."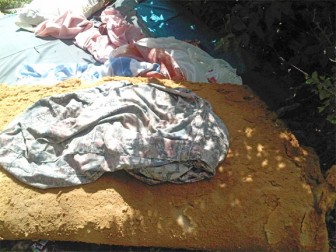 Whyte said Percy immediately responded, and after entering the house, grabbed Roy by his hands and tossed him out of the house, causing him to fall on the fence.
"He showed us a bottle and told us that he already did what he had to do and let them see what they are going to do," said Whyte. It was suspected that the bottle he showed to the Whytes contained the poisonous substance that was eventually ingested.
Recounting the horrendous ordeal, Ashley said that she heard a shout, and that when she jumped up to investigate, she saw Roy in the room, stabbing Devon on the floor. She said at this point she tried to hold back the knife, which caused injuries to her fingers.
She said that she managed to open the door to allow her parents to come to their rescue, and that Da Silva had jumped out of the bedroom window in an effort to escape.
Whyte said they found him at the side of the house lying in a pool of blood, and he was rushed to the New Amsterdam hospital where he was pronounced Dead on Arrival (DOA).
A source explained that when he was younger, Lewis had lived with and supported Da Silva with anything he needed for school.
The source added that Lewis once attempted to give poison to Da Silva while he was working at the Berbice bauxite operations. The boy's mother had sent him away to the gold mine where he used to work, but he had returned for the holiday.
It was also said that while Da Silva and Ashley were hanging out at the Boxing Day fair, Lewis followed him around and showed him a long knife, which it is alleged, was the very knife used in the brutal stabbing.
The source said that numerous reports were made to the police stations, welfare officers and other officials who took up the matter. However the matter went cold after a while.
Media operatives were told that there is a  matter between the two in the court.
A post-mortem examination will be performed shortly and police investigations are continuing. Da Silva leaves to mourn his mother, father, brother, sister, girlfriend and other relatives.
Comments
Dear Editor, Kindly publish my response, as follows, with regard to an anonymous letter published by the Guyana Chronicle on Wednesday, August 16, 2017, under the caption 'Will the Auditor General investigate the deputy chief elections officer?' Editor, this letter is the second deliberate attempt aimed at besmirching my integrity, obviously with clandestine objectives. 

Dawn Hastings-Williams President David Granger, today, announced that Minister within the Ministry of Communities,  Dawn Hastings-Williams will assume the portfolio of Minister of Public Affairs in the Ministry of the Presidency with effect from September 1, 2017.

President David Granger, earlier today, attended the wedding reception of Minister within the Ministry of Communities with responsibility for Housing, Valerie Patterson- Yearwood and .

Grace Mugabe   JOHANNESBURG,  (Reuters) – South African police confirmed on Wednesday that Zimbabwean first lady Grace Mugabe remained in the country and had applied for diplomatic immunity after being accused of assaulting a 20-year-old model in an upmarket Johannesburg hotel.

Daniel Craig   LONDON, (Reuters) – British actor Daniel Craig has confirmed he will reprise the role of James Bond one last time, ending months of speculation.