Let there be 3-D!!!
For the New Year, Guyana's first 3-D theatre will open at the Avinash Entertainment Complex on Water Street, part of a US$4 million investment by the Panday family that aims to transform the downtown area.
"We are changing the landscape of Water Street," said Malcolm Panday as the project was unveiled to the media yesterday.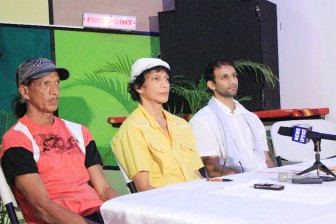 An assortment of services will be offered when the complex is completed and two cinemas with seating available for over 200 persons each are already operational as the Panday family "brings back the magic of movie theatres to Guyana".
The 3-D theatre will open by Wednesday. Prices for the two cinemas currently in operation are $500 for adults and $300 for children. Prices for the 3-D cinema will be $800 for adults and $500 for children and 60 persons can be accommodated. On offer are children and family oriented Hollywood and Bollywood films.
Within six months' time, two additional indoor cinemas as well as a thrive-thru cinema, a disco, a bowling alley, a roof garden, a food court, a children's play area and a shopping mall will be completed. Also on stream is a boardwalk that will project out into the Demerara River, while a stage for live shows is being constructed.
The project was conceptualised about three years ago by the Panday family. "We saw that Guyana did not have any facility for healthy, family-oriented entertainment," said Ryan Panday.
Within two years, the entire complex is expected to be completed and could see the employment of about 700 persons.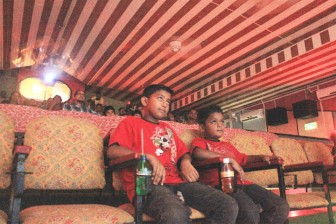 Malcolm said the public has been responding well to the opening of the cinemas and yesterday many persons were seen streaming in for the afternoon movies.
Asked about distributorship deals which would ensure that movies are available here as they are released worldwide, he said that this was being worked on.
The colourful theatres, which were described as state-of-the-art are air-conditioned and have surround sound.
The officials assured that patrons and their vehicles will enjoy full security and added that they hope the authorities will install street lights in the area. It was also stated that the area is being transformed into a business area by the authorities and the population of the infamous Tiger Bay is 25% of what it was five years ago. The company officials also noted that they have a good relationship with the community and more crime occurred at the city centre than at their Water Street location.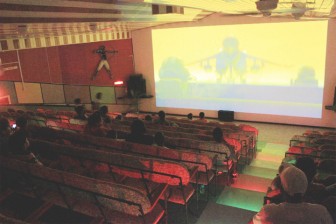 "We are bringing back Water Street to life," said Malcolm.
Another principal of the complex, Harry Panday, said that in terms of the live shows that will be offered, they want to focus the spotlight on Guyanese artistes.
Comments

Grace Mugabe   HARARE,  (Reuters) – Zimbabwe's first lady Grace Mugabe returned from South Africa early today, state media reported, after a 20-year-old model accused her of assault in an upmarket Johannesburg hotel room.

Michael Bhopaul, 16, doesn't know if he is this year's best performer at    the Caribbean Secondary Examination Certificate (CSEC) Examinations, but with preliminary results showing that he has obtained passes in 25 subjects, he will be hard to top.

Inmates at the Lusignan Prison turned over 33 improvised weapons yesterday morning to prison authorities, who say that they also apologised to the prison staff for the unrest at the facility on Friday night.

Well known Berbice attorney Chandra Sohan was arrested on Friday after he allegedly struck a pedestrian in a hit and run accident along the Williamsburg Public Road.

For a little more than an hour yesterday, the streets outside the Mackenzie Market rang with the voices of dozens of Linden residents who turned out to support a march against homosexuality.