It is the desire to entertain with top-notch performances of classical and harmonic music that keeps the members of the Georgetown Chamber Chorus (GCC) together, even though the only payment they receive is the gratitude of their audiences. But it is enough for the group to deliver quality performances which leaves tongues wagging for weeks after.
The hard 'task masters' who 'whip' them into shape can have then in practice sessions for as much as five gruelling hours at a stretch, just in order to reproduce the perfect sound.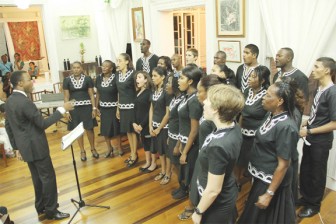 What makes the group even more interesting is that at any one time can it can include ex-pats from around the world who bring with them their musical experience from their homelands, adding diversity to the choir's repertoire.  But the core members are all Guyanese and the structure of the group is such that when an ex-pat leaves there is always a local member to fill the gap so there is no void.
Relatively new on the scene – the group came into existence in April 2010 – the choir has had its best year so far, with seven performances; previously they only had two performances a year.
The group has already stamped its authority, however, as it was named the choral champion in the Musical Arts Festival and preparations are now under way to defend that title later this year.
Started by Musheer and Sarah Kamau, two ex-pats who worked in Guyana for a period, the chorus prides itself on performing "diverse works that draw on the rich musical heritages from around the world for the enjoyment of the Georgetown and Guyana community."
The Kamaus founded the group in response to what they term the "declining interest in classical and harmonic music locally."  Soon after, the main collaborator and principal accompanist Marcello Basani joined the ranks.
Over time the chorus has seen the infusion of international members from Namibia, Holland, England, Kenya,  Canada and Hong Kong, to name a few, and this has enabled it to grow musically "expanding its repertoire to more than 30 songs… [it] is currently looking at the international arena to expand its horizons."
Passion, commitment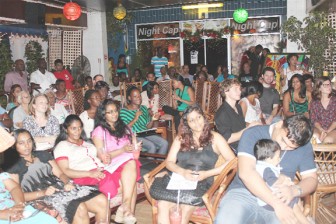 To be part of the group one must not only have the passion – you can be a bathroom singer – but more importantly the commitment. Current president of the executive Marvin Kissoon told the Sunday Stabroek in a recent interview that without that commitment one cannot survive the rigorous practice sessions.
"One of the things people should know is that we are not a choir that does mediocre music; if you are going to come you must be prepared to work hard," he said.
Kissoon, along with Dwayne Hackett, Andrew Hook and Nicole Griffith, who are on the present executive, all boasted about the chorus's great performance and they spoke too about how commitment is the key during an interview with the Sunday Stabroek.
At present the group consists of persons between the ages of 13 and 60, but the majority are on the younger side which is something of a novelty, as it is usually believed that it is only the older folk who are interested in classical music and in becoming part of a chorus. "Usually when you hear of choral groups you think about older people, but we are young people mostly, but we are all learning…" Hackett said.
But there is need for more men in the choir because as with many singing groups, many of the members are women.
Kissoon said the members just need to follow directions and they would soon find out what they thought was nothing, is in fact a "very good sound."  Hackett added that they aim to perfect what they do and not just to go out and sing.
According to Hook when they were preparing for the last two performances they met sometimes as much as three times a week for practice sessions after a hard day's work. They practise at the Diocese House on High Street, and although they are not affiliated to any church they are grateful for being allowed to use the facility. However, the group does include sacred songs in its repertoire as they perform at any function and can sing all songs. Hackett said that the choir is not drawn from any one class, as it includes members from all social strata and "we want to bring this music to everyone who we can reach."
'Interest'
"I started out not even knowing anything other than playing music and humming along…" Griffith said, adding that she is now amazed at how far she can go when pushed by her music directors.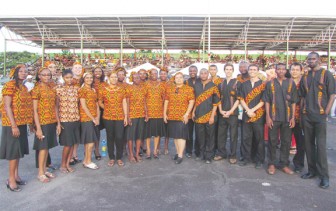 But not all members are green as some have musical backgrounds, but at the end of the day it does not matter; if you have the interest and the commitment there is room for you. To illustrate the commitment of its members the four spoke about a member who has to travel from Kuru Kuru every time they have practice, and she never misses a session.
"Unless there is a passion there the choir can't work; you know you can have a bad day or have another appointment, you can find an excuse not to go, but we have been encouraged that over the year we have been able to keep all the members and even grow," Hook, one of the transient ex-pats in the group said.
Hook said as he looked around Guyana there were not many active musical groups outside the church, and this motivated him to be a part of the group of very diverse people. "To discover it [the group] has made me very happy, and so I see myself just as someone who is going to be here for a couple of performances and then leave without [leaving a void]," he said.
Hackett said that the ex-pats bring a "real mixture" to the group as they have learned music from other countries and sometimes in their native language. Hook noted that not being affiliated to any church gives them the freedom to perform very much as they choose and at any venue, putting their diverse repertoire on display.
"I like to think for Guyana we are kind of a fresh alternative with the different forms of music we have available, and it is a very nice and diverse thing to be part of," Hook said.
He was in the audience of a concert where the choir performed and that was how he got his motivation. According to him they have "excellent crowds" for their performances.
"So we explore music from around the world in different languages and choral," he said.
He pointed out that the group had such a large repertoire, that with a bit of practice they can perform much of it without the leaders and ex-pats present.
And while the founder of the group has left Guyana he still travels from neighbouring Suriname where he is now based for every performance. Kissoon explained that in the absence of Musheer Kamau, Marcello Basani would teach the chorus and Kamau would then travel and add the final touches and conduct the performances.
Hackett noted that in the absence of Mursheer and soon Marcello as well, it would be an opportunity for the remainder of the group to put into practice what they have learnt, as the objective of the group is to endure beyond its founders. Kissoon added that the founders wanted to start something that would continue long after they had left.
"The choir isn't one that is trying to promote itself… our idea really is trying to encourage people to see that there is more to music than just coming up and singing any old thing, any old how and have the public think that is all there is…" Kissoon said.
He went on to observe that the chorus shows that you can sing really good music just for the entertainment of others. And Hook added that it is not about who can sing really, but rather about 25 people coming together and creating something really amazing.
And there are times when people would lose their voices, but Kissoon said they ensure that members know the parts of every single song in their vocal range, even though they might not be called upon to perform in every song. So if someone loses his/her voice then another person in the vocal range can quickly replace them.
Griffith explained that Musheer, a Trinidadian, has said his motivation to start the group was the void in choral classical music that he observed in Guyana and it was not the first time he had taken such an initiative as he had done the same thing in another Caribbean country. She said while Musheer is "tiny" he has a very dynamic personality and has the ability to pull out the best from his members.
The group has performed at St George's Cathedral, the National Cultural Centre, the New Amsterdam Town Hall, at national events, and at local bars and cafés, among others. "Built on a solid Western classical tradition, the group explores music from over the centuries: madrigals to jazz, oratorios to gospel, and lieder to calypsos. Composers range from Mozart and Haydn to Stevie Wonder and even Shakira. While adding new songs and performances, the group keeps on receiving training in musical theory and vocal techniques," the chorus group says about itself in an overview.
Persons interested in auditioning can contact the group at 592-674-7197.
Kissoon warns prospective members that if they are not prepared for the long haul and are going to complain about the long hours of practice, then they should not join, since there had been cases of persons who joined but dropped out shortly afterwards as they were not prepared to make the necessary  commitment.
The group's current membership is as follows:
Direction and Music Control: Musheer Kamau and Marcello Basani
Music Associates: Justin Thompson and Mervin Kissoon
Sopranos: Anastacia Percival, Karen Weatherspoon, Alecia Moon, Nicole Griffith, Monique Green, Christine De Cambra, Wema Wachira, Rachel Mekdeci
Altos: Edna Williams, Louise Nero, Tessa Fileen, Charmaine Haynes, Fayan Crandon, Denise Duncan, Joanna Joseph
Tenors: Ezzie Crandon, Denzil Arthur, Vickram Rambarran, Andrew Hook, Andray Soodoo
Basses: Mervin Kissoon, Dwayne Hackett, Mark Burnett
Comments

Eighteen prisoners at the Lusignan penitentiary were being treated for injuries last night following a reported attempt to kill a fellow inmate during which warders fired shots.

A 12-year-old girl is now dead, while her brother narrowly escaped a similar fate yesterday after their aunt's La Bonne Intention (LBI), East Coast Demerara house, which they were under, collapsed on them.

Guyana has officially applied for membership in the European Union's Extractive Industries Transparency Initiative (EITI) which will help in tracking revenues from oil and other natural resources.

State Minister Joseph Harmon yesterday reiterated that President David Granger's directive to the Police Service Commission to halt its consideration of promotions was intended to prevent damage to the image of the Guyana Police Force but he could not say under what authority the head of state acted.

While saying that a strong security presence along the country's borders is the first line of defence against transnational criminal syndicates, President David Granger yesterday called for cooperation by all actors to see the security of Region Nine as a priority.