JAIPUR, India, (Reuters) – Amid raucous cheers from thousands of admirers, television superstar Oprah Winfrey praised the contrast of calm and chaos in India at the region's largest literature festival fast becoming a global cultural gala.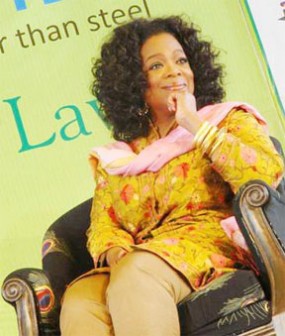 Considered one of the world's most influential women, Winfrey lived up to her billing as the headline draw at an event boasting literary giants such as Tom Stoppard, Michael Ondaatje and Richard Dawkins, charming the crowds this morning.
"I came here with an open mind, and it has been expanded…
It's the greatest life experience I have ever had," Winfrey said at the annual Jaipur Literature Festival in India's north-western state of Rajasthan.
"You feel like you're in the centre of something bigger and greater than yourself."
Hundreds of eager visitors jostled against barricades at theback of the main stage area as Winfrey began speaking. Security guards struggled to shut the main entrance gates as angry admirers tried to push their way inside.
"It's like being in a video game. I don't know which way to look," Winfrey told crowds on her arrival in Mumbai. "It's a bit chaotic, but there's an underlying calm, a flow, that you all seem to understand. India is a paradox."
The 57-year-old has caused a media storm in India, with news channels and front pages filled with stories of her touring the city of Mumbai with the Bachchans, Bollywood's first family. On Sunday she drew huge cheers as she appeared on stage in a traditional Indian churidar kameez smock.
"I will take with me a sense of calmness, and a genuine respect… people don't talk religion here, they live it," Winfrey said.
Her appearance on Sunday was seen as a welcome distraction from the Salman Rushdie furore that has overshadowed the five-day festival, after the author cancelled his planned visit due to reported assassination threats against him.
The talk-show host and interviewer's "Book Club" turned little-known authors into global stars, with 59 of the club's 70 selected books making the USA TODAY Top 10 best-sellers list.
Winfrey told the festival that in 2008, after witnessing the completion of her mission to get then-Senator Barack Obama to the White House, she stuck a picture of a woman riding a camel on her pinboard, that said "Come to India".
It was important for me to go to slums but not show theworst of the worst, but show that people can live in poverty and still have hope and meaning in their lives," said Winfrey, who also called for Indians to work to eradicate discrimination against widows in society.
Comments

WASHINGTON/TALLAHASSEE, Fla., (Reuters) – Students galvanized by the deadly mass shooting at a Florida high school confronted lawmakers yesterday with demands to restrict sales of assault rifles, while President Donald Trump suggested arming teachers as a way to stop more U.S.
CARACAS,  (Reuters) – Venezuelans reported losing on average 11 kilograms (24 lbs) in body weight last year and almost 90 percent now live in poverty, according to a new university study on the impact of a devastating economic crisis and food shortages.
ISLAMABAD,  (Reuters) – Pakistan's Supreme Court on Wednesday ordered that ousted prime minister Nawaz Sharif be removed as head of the political party he founded, six months after the court disqualified him as the country's leader over unreported income.
WASHINGTON,  (Reuters) – The U.S. Supreme Court on Wednesday ruled that Americans injured in a 1997 suicide bombing in Jerusalem cannot seize ancient Persian artifacts from a Chicago museum to satisfy a $71.5 million court judgment against Iran, which they had accused of complicity in the attack.

WASHINGTON,  (Reuters) – U.S. Special Counsel Robert Mueller yetserday stepped up pressure on two former Trump campaign aides to cooperate in his probe into possible collusion with Russia, unsealing a criminal charge against a lawyer for lying to Mueller's investigators.