LONDON, (Reuters) – British Energy Secretary Chris Huhne resigned yesterday after learning he would face criminal charges for allegedly lying to police, a fall from grace that could tweak the dynamics of the coalition government and weaken its environmental agenda.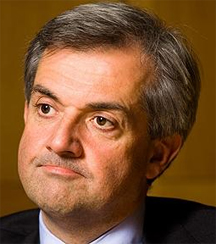 The scandal is an embarrassment to Huhne's centre-left Liberal Democrats and could strengthen the hand of their senior coalition partners, the right-wing Conservatives, in the field of energy policy.
"To avoid any distraction to either my official duties or my trial defence, I am standing down and resigning as energy and climate change secretary," Huhne said in a short statement less than an hour after the decision to charge him was made public.
A heavyweight among Liberal Democrats and a fearless critic of some Conservative colleagues, Huhne was replaced by lesser-known fellow party member Ed Davey, who was previously a junior employment minister.
Huhne's troubles stem from an allegation that after committing a speeding offence in 2003 in Essex, east of London, he asked his then wife Vicky Pryce to take the blame so he would not lose his driving licence.
Huhne and Pryce face charges of perverting the course of justice. They will make their first court appearance on Feb. 16.
"Chris Huhne's successor faces huge challenges … and needs to get a grip on a complicated brief very quickly," said Jim Skea, research director at the UK Energy Research Centre.
Clean energy and environmental groups expressed concern that Huhne's resignation, at a time when the government has new policies in the pipeline, would stall reform and cause uncertainty.
"Huhne had been a staunch defender of the green agenda at a time when other coalition leaders seem to be distancing themselves from it," said David Symons, director at global environmental consultancy WSP Environ-ment & Energy.
Comments

HARARE,  (Reuters) – Zimbabwean President Robert Mugabe's fate hung in the balance yesterday as he apparently resisted efforts to step down in the wake of an audacious seizure of power by the army, until this week a key pillar of his 37-year-rule.
WASHINGTON, (Reuters) – Congressional Republicans took an important step yesterday toward the biggest U.S.
OSLO,  (Reuters) – Norway's trillion-dollar sovereign wealth fund is proposing to drop oil and gas companies from its benchmark index, which would mean cutting its investments in those companies, the deputy central bank chief supervising the fund told Reuters, sending energy stocks lower.
WASHINGTON, (Reuters) – President Donald Trump finds the sexual misconduct allegations against U.S.
LONDON,  (Reuters) – Battle lines are being drawn as the first gene therapy for an inherited condition nears the U.S.