LONDON, (Reuters) – British Energy Secretary Chris Huhne resigned yesterday after learning he would face criminal charges for allegedly lying to police, a fall from grace that could tweak the dynamics of the coalition government and weaken its environmental agenda.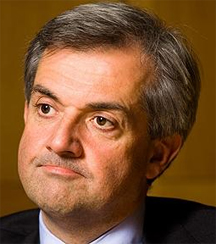 The scandal is an embarrassment to Huhne's centre-left Liberal Democrats and could strengthen the hand of their senior coalition partners, the right-wing Conservatives, in the field of energy policy.
"To avoid any distraction to either my official duties or my trial defence, I am standing down and resigning as energy and climate change secretary," Huhne said in a short statement less than an hour after the decision to charge him was made public.
A heavyweight among Liberal Democrats and a fearless critic of some Conservative colleagues, Huhne was replaced by lesser-known fellow party member Ed Davey, who was previously a junior employment minister.
Huhne's troubles stem from an allegation that after committing a speeding offence in 2003 in Essex, east of London, he asked his then wife Vicky Pryce to take the blame so he would not lose his driving licence.
Huhne and Pryce face charges of perverting the course of justice. They will make their first court appearance on Feb. 16.
"Chris Huhne's successor faces huge challenges … and needs to get a grip on a complicated brief very quickly," said Jim Skea, research director at the UK Energy Research Centre.
Clean energy and environmental groups expressed concern that Huhne's resignation, at a time when the government has new policies in the pipeline, would stall reform and cause uncertainty.
"Huhne had been a staunch defender of the green agenda at a time when other coalition leaders seem to be distancing themselves from it," said David Symons, director at global environmental consultancy WSP Environ-ment & Energy.
Comments

WASHINGTON (Reuters) – President Donald Trump and Republican lawmakers took a tough stance on Saturday after the US Congress failed to fund federal agencies, saying they would not negotiate on immigration until Democrats help end the government shutdown.
WASHINGTON, (Reuters) – US President Donald Trump's presidential campaign on Saturday issued a new video ad calling Democrats "complicit" in murders committed by illegal immigrants, during a government shutdown partly triggered by an impasse over immigration.
TRUJILLO, Peru (Reuters) – A key US cardinal distanced himself on Saturday from comments by Pope Francis on sexual abuse, saying they had caused "great pain," a remarkable move pointing to divisions in the Roman Catholic Church over how to treat accusers.
KABUL (Reuters) – Gunmen attacked Kabul's Intercon-tinental Hotel on Saturday, seizing hostages and exchanging gunfire with security forces as the building in the Afghan capital caught fire and residents and staff fled.
WASHINGTON (Reuters) – Many thousands of women and their male supporters turned out on Saturday for the second Women's March, a nationwide series of protests against US President Donald Trump marking the end of his tumultuous first year in office.