LONDON (Reuters) – Britain's Valerie Amos, who is heading to Syria on a UN humanitarian mission, is an expert in the delicate art of international diplomacy.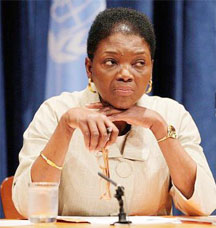 Softly-spoken and famously cool under pressure, the UN humanitarian chief will need all the tact and diplomacy she has proved she possesses during a remarkable career if she is to make progress in Syria.
Her task is to try to secure access for aid workers to deliver UN emergency relief to people trapped in Syria's conflict zones.
Before coming to international prominence with the United Nations, Amos, 57, rose higher within Britain's political hierarchy than any other female black Briton before her.
She became the first black woman to be appointed to the cabinet when then Prime Minister Tony Blair made her international development secretary in 2003.
A British newspaper described her at the time as "ice-cube cool, prone to neither emotional nor indiscreet outbursts, she thinks first, answers questions later."
Less than six months later, she became the first black leader of Britain's parliamentary upper chamber, the House of Lords.
After a stint as British high commissioner to Australia from late 2009, Amos, who rarely gives interviews, took up her current job as UN under-secretary general for humanitarian affairs and emergency relief coordinator.
She was reported to have been nominated by Prime Minister David Cameron, whose Conservatives ousted her Labour Party in the 2010 parliamentary election.
"Valerie is not seen as a political person," British sources were reported to have said at the time.
Her role, in charge of all emergencies requiring UN humanitarian assistance, has taken her to a number of trouble spots including earthquake-stricken Haiti. She also visited the Libyan-Tunisian border area during Libya's civil war, and famine-hit Somalia.
Born in Guyana in 1954, she developed a good grounding in international affairs as minister for Africa in the British government from 2001.
She worked on tackling poverty and increasing aid flows through debt relief initiatives and promoting private-sector investment on the continent.
Around the Web