FORT MEADE (Reuters) – US Army intelligence analyst Bradley Manning, accused of the largest leak of classified documents in US history, deferred a plea in a military court arraignment yesterday, marking the first step in a court-martial that could land him in prison for life.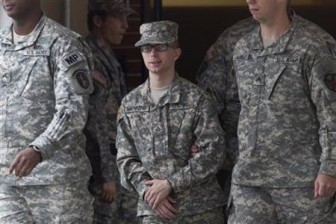 In yesterday's procedure, Manning, 24, was formally charged with 22 counts including aiding the enemy, wrongfully causing intelligence to be published on the Internet and theft of public property. Military prosecutors say Manning downloaded more than 700,000 classified or confidential documents and transferred thousands to WikiLeaks, which promotes leaking government and corporate information.
Manning's plea deferral allows his defence team time to strategize and see the outcome of several motions to be heard before the trial begins, which could be as late as August.
"It basically leaves their options open," said a legal expert with the Military District of Washington, the Army command unit for the capital region, who was present at the arraignment. The expert could not be named under rules imposed on media covering the proceedings.
When asked if he understood his rights to counsel, Manning, in a dark green military dress uniform and black-rimmed military glasses, spoke quickly but forcefully. "Yes, your honour," he said.
Manning's attorney, David Coombs, announced that Manning would defer his plea as well as a decision on whether to face trial by a military judge or a panel of military members, made up of senior officers or enlisted members of rank no lower than Manning's.
Around the Web