LOS ANGELES (Reuters) – Hollywood showed some love for its history at the Oscars on Sunday, giving its best film award and four others to silent movie The Artist in a ceremony that recalled why cinema is special to so many people.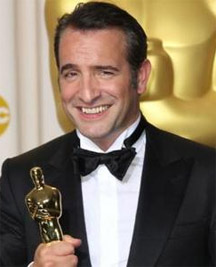 The Academy of Motion Picture Arts and Sciences also gave Oscars to Meryl Streep playing former British Prime Minister Margaret Thatcher in The Iron Lady, marking Streep's third Academy Award in 17 nominations; Octavia Spencer, playing a maid in the acclaimed film The Help, and veteran Christopher Plummer made history by becoming the oldest winner ever at age 82 with his role as an elderly gay man in Beginners.
But it was the The Artist, a French movie that has been called a love letter to old Hollywood by its makers that charmed Oscar voters. Made in the style of old silents, it tells a romantic story of a fading star in the era when silent movies were overtaken by talkies.
The Artist collected Oscars for its star Jean Dujardin and director Michel Hazanavicius, as well as for musical score and costume design.
"I am the happiest director in the world right now. Thank you for that," Hazanavicius told the audience of stars including George Clooney, Michelle Williams, Angelina Jolie, Brad Pitt and members of the Academy.
Dujardin was equally excited, exclaiming "I love this country" before thanking the Academy, the film's makers and his wife, and calling silent actor Douglas Fairbanks an inspiration.
Streep's victory surprised Oscar pundits who thought Viola Davis would win the Academy Award with her portrayal of a maid in a southern white home in civil rights drama The Help.
But Streep's turn as an elderly Thatcher who is slipping into dementia was too good to be ignored. It was Streep's third Academy Award out of 17 nominations, and even she reckoned that Oscar voters would think she's been there, done that. Backstage she termed it "Streep fatigue" to reporters.
"When they called my name, I could feel America saying, 'Oh why her again?' But whatever," she joked. Yet even the steely veteran could not hold back the emotion of an Oscar victory. When she thanked her husband and talked about her career she came close to breaking into tears, and backstage she said it made her feel like a kid again.
Veteran Plummer, a star of classic film The Sound of Music, won his first ever Oscar for his portrayal of an elderly gay man who comes out to his family in Beginners.
"You're only two years older than me, darling. Where have you been all of my life," he said, looking at his golden Oscar, which was celebrating its 84th awards ceremony.
Spencer, a relative newcomer in contrast to Plummer, had to hold back tears as she accepted her trophy for her portrayal of a southern maid in civil rights drama The Help.
"Thank you Academy for putting me with the hottest guy in the room," she said holding her Oscar in her hand.
She then went on to talk about her family in Alabama and could not hold back her tears as she joyously accepted her trophy.
Director Martin Scorsese's Hugo, which like The Artist pays tribute to early filmmaking, came into the night with a leading 11 nominations – one more than Artist – and also picked up five wins. But its Oscars came in technical categories cinematography, art direction, sound editing and mixing and visual effects.
Around the Web