(Reuters) – Rescue teams and residents combed through storm-wrecked towns to assess damage yesterday from a chain of tornadoes that cut a 1,000-mile swath of destruction from the Midwest to the Gulf of Mexico, as the death toll crept up to at least 37 people.
The fast-moving twisters spawned by massive thunderstorms splintered blocks of homes, damaged schools and a prison, and tossed around vehicles like toys, killing 18 people in Kentucky, 14 in neighboring Indiana, three in Ohio and one in Alabama, officials said. Georgia also reported a storm-related death.
"We're not unfamiliar with Mother Nature's wrath out here in Indiana," Governor Mitch Daniels told CNN during a visit to the stricken southeast corner of the state.
"But this is about as serious as we've seen in the years since I've been in this job," he said, standing against the backdrop of the hard hit town of Henryville.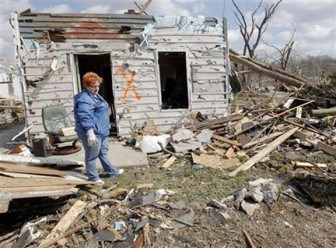 Friday's storms, spanning 1,000 miles from the Gulf of Mexico to near the Great Lakes, came on top of severe weather earlier in the week in the Midwest and brought the overall death toll to 49.
Tornadoes smashed Indiana and Kentucky terribly hard, with Alabama, Georgia, Ohio and Tennessee overrun as well.
President Barack Obama called the governors of Indiana, Kentucky and Ohio to offer condolences and assure them that the federal government was ready to help if needed, the White House said.
Television footage from some of the worst-hit towns in Indiana and Kentucky showed houses lifted from their foundations, trees downed and stripped of their foliage, and rubble scattered across wide swathes of land.
Tony Williams, 46, owner of the Chelsea General Store in southern Indiana, said four people died in the Chelsea area, including 4-year-old Daylin Terry Jackson and his great grandparents, Terry and Carol Jackson, both in their late 60s.
The boy and his mother, Amanda Jackson, were in a basement when the storm hit on Friday afternoon, and he was torn from her arms by the tornado. The mother survived, but her grandparents who were upstairs both died.
"She was in the cellar with the boy when the tornado hit. It blew him right out of her hands," Williams said. "They found the bodies in the field outside," he added, referring to Daylin and his great grandparents.
Williams said 60 local school children took refuge in his store overnight.
But in a sign of hope amid the destruction, a 2-year-old girl was found alive in a field in Salem, Indiana, west of Chelsea, authorities said.
"When she was brought down here they didn't know who she was," said Brian Rublein, a spokesman for Kosair Children's Hospital in Louisville, Kentucky, where the girl was taken by helicopter. "At last report she was in critical condition," Rublein said, saying members of the girl's family had arrived at the hospital to be with the child.
In Henryville, birthplace of Harland David "Colonel" Sanders, who founded the Kentucky Fried Chicken fast-food chain, ground zero for the storm was a downtown complex housing an elementary, junior high and high school, where 1,400 students attend on a normal day.
Around the Web