MARACAIBO, Venezuela, (Reuters) – Venezuela's opposition candidate sharply criticized socialist President Hugo Chavez for having cancer treatment in Cuba rather than trusting doctors at home, saying it sends a terrible message to ordinary Venezuelans.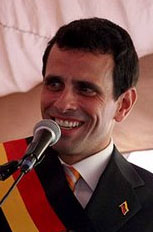 Henrique Capriles has generally avoided joining the fevered speculation over the president's condition, preferring simply to wish him a speedy recovery in time for the Oct. 7 election that is shaping up to be Chavez's closest fight of his 13-year rule.
Yet in some of his strongest comments to date, the Democratic Unity opposition coalition's candidate told Reuters this week that Chavez's decision to have surgery in Cuba – twice in mid-2011 and again last month – and to govern from Havana during his convalescence was wrong.
"He says he has to be operated on abroad because the conditions don't exist for him to be treated in his own country. What does that mean for common citizens if they have cancer?"  Capriles said during an interview on his campaign bus in the western, oil-producing state of Zulia.
"It's an extremely negative message."
As well as putting his faith in Cuba's health service, Chavez has chosen to be treated in Havana due to his close friendship with former president Fidel Castro and the greater guarantee of privacy on the tightly-controlled Caribbean island.
"If I was in his position, I would stay in Venezuela. I would not govern from another country," Capriles said on a  nationwide "house-by-house" tour in which he is trying to win over pro-Chavez areas.
An energetic 39-year-old state governor, Capriles says he wants to replace Chavez's radical socialism with a "modern left" government in the Brazilian mould, maintaining the best of Chavez's welfare policies but restoring free market economics.
Though fired up from a big win in the coalition's primary and knowing he is the opposition's best hope since Chavez won power in 1999, Capriles still faces a huge challenge to overcome the president's emotional connection with the poor and  counteract heavy government spending on social projects financed by oil revenue in the South American OPEC member country. Capriles is on a three-month "listening" tour, yet the president's health saga continues to steal the headlines.
Chavez, 57, faces radiation treatment after the removal of a second tumor. Some Venezuelans wonder if he can govern for another term, or will even have the strength to run for re-election.
"I think he will be the candidate. I want him to be the candidate. I'm not someone to wish ill on anyone. I think that marks a big difference," said Capriles, who has been the target of vicious verbal attacks by Chavez and his allies."Our campaign has a timetable and direction … This (the return of Chavez's cancer) does not change our strategy."
From now until the end of May, that plan means visiting homes at every stop – especially those belonging to Chavez supporters – to hear peoples' problems and raise his profile.
CHAVEZ SUPPORTERS
In Zulia, Capriles spent hours tramping sun-baked streets, working crowds and making calls on modest homes in a campaign tactic that also has the advantage of showing off his youth and energy in contrast to Chavez's new image as an ill man.
Though the crowds in Zulia were generally supportive, even euphoric at times, Capriles does not always get an easy ride. Groups of red-shirted "Chavistas" heckled him at various points.
At one house, the opposition leader was drowned out by a dozen women across a fence chanting: "Onward, onward, comandante!" and "Chavez is not going!" Capriles laughed, went to shake their hands and even blew a kiss to defuse the tension.
Comments

CARACAS,  (Reuters) – Venezuelan President Nicolas Maduro looked sure to stand for re-election in a presidential vote due by the end of April where the ruling Socialists hope to trump a squabbling opposition despite an economic crisis and foreign sanctions.

WASHINGTON,  (Reuters) – U.S. Attorney General Jeff Sessions was questioned last week by the special counsel's office investigating potential collusion between Russia and President Donald Trump's 2016 presidential campaign, the U.S.
BENTON, Ky.,  (Reuters) – A 15-year-old boy opened fire with a handgun just before classes started at his high school in rural western Kentucky yesterday, killing two fellow students and wounding a dozen other youths before he was arrested, the state's governor and police said.
HARARE, (Reuters) – Zimbabwe has given cabinet ministers and senior government officials until the end of February to declare their assets as new President Emmerson Mnangagwa seeks to foster transparency and fight corruption.
BENGHAZI, Libya,  (Reuters) – A double car bombing in the east Libyan city of Benghazi yesterday left at least 33 people dead and dozens more wounded, including senior security figures and civilians, officials said.