(Reuters) – King George Tupou V of Tonga, who ushered in democracy to the South Pacific archipelago, was buried in a ceremony that mixed traditional Polynesian ritual with Christian hymn singing today.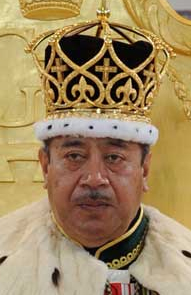 The king, 63, died suddenly in Hong Kong on March 18 and had lain in state for just a day after being flown back in a chartered plane yesterday.
A 21-gun salute boomed across the Tongan capital Nuku'alofa, where the streets had been draped in the mourning colours of black and purple.
Thousands of Tongans sat cross-legged three and four deep as the funeral cortege made its way from the Royal Palace.
The king's coffin, covered by his royal standard, was carried on a giant, black and gold-topped catafalque by 150 pallbearers dressed in black and wearing traditional grass mats.
Local mourners were joined by the representatives of the British and Japanese royal families, and heads of government from around the Pacific.
The funeral service mixed Tongan ritual with the Wesleyan Christian tradition of hymns, bible readings, prayers and eulogies.
The coffin was then carried by the royal undertakers over a wall, as dictated by tradition, to a grave next to the late king's grandmother.
Tupou V, a flamboyant, bachelor king, was known for his eccentricities, such as being driven around in a London taxi and his penchant for ornate and elaborate uniforms and top hats.
Shortly after the Oxford-educated Tupou V ascended the throne in 2006, demonstrations demanding greater democracy turned into riots in which eight people died and large parts of the commercial centre of Nuku'alofa were destroyed.
The late king then relinquished most of his power in the last Polynesian monarchy to a broadly popularly elected government after 165 years of feudal rule.
Around the Web