HAVANA, March 28 (Reuters) – Pope Benedict called for an end to the U.S. trade embargo against Cuba and met with revolutionary icon Fidel Castro yesterday as he ended a trip in which he urged the communist island to change.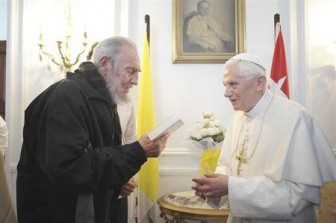 He also spoke at a public Mass in Havana's sprawling Revolution Square where the Vatican said 300,000 people gathered to hear the 84-year-old pontiff. In a trip laced with calls for change in Cuba, his last message was aimed at the United States, its longtime ideological foe, which for 50 years has imposed a trade embargo trying to topple the Caribbean island's communist government.
Speaking in a departure ceremony at a rainy Havana airport, Benedict said Cuba could build "a society of broad vision, renewed and reconciled," but it was more difficult "when restrictive economic measures, imposed from outside the country, unfairly burden its people." "The present hour urgently demands that in personal, national and international co-existence we reject immovable positions and unilateral viewpoints," the German pope, dressed in white vestments, said in his soft voice and heavily accented Spanish.
Beginning at his arrival in eastern Santiago de Cuba on Monday, Benedict sprinkled his speeches with thinly-veiled references to Cuban dissidents, political prisoners, Cuban exiles and the need for the Caribbean island to push ahead with its economic reforms. The pontiff rode in his Popemobile on the way to the airport and was bid farewell by streets lined with Cubans waving flags and cheering him.
President Raul Castro, who attended the pope's Masses in Santiago on Monday and in Havana on Wednesday, saw off the pontiff, who is frail and moves slowly, before he boarded his jet for Rome and flew into stormy skies. The two men clasped hands and Raul Castro dipped his head briefly in a show of reverence that he had made at their other meetings. Both he and his older brother were educated by Jesuits, the worldwide Catholic order.
MUTUAL UNDERSTANDING
"Your visit has taken place in an atmosphere of mutual understanding," President Castro said. "Your holiness, we have found many and deep agreements, although it's natural that we don't think the same on all issues." Under 49 years of rule by Fidel Castro, the Roman Catholic Church lost its schools, hospitals, access to media and its prominent role in Cuban society. But Raul Castro, who succeeded his ailing brother four years ago, has improved relations with the Church and is using it as interlocutor on issues such as political prisoners and dissidents as he undertakes potentially disruptive reforms to the country's struggling Soviet-style economy. He is encouraging more private enterprise to offset plans to cut 1 million jobs from government payrolls, which is 20 percent of the country's labor force of 5.2 million.
But while Benedict is urging Cuba to make deeper changes, the government sees its reforms as a way of strengthening communist rule, not weakening it. The pope mentioned several times during his visit that he was happy relations had improved, but also said they needed to get better so the Church could help buffer against "trauma" or social upheaval. "This must continue forwards, and I wish to encourage the country's government authorities to strengthen what has already been achieved and advance along this path," he said. The Church, he added, "seeks to give witness by her preaching and teaching, both in catechesis and in schools and universities."
Around the Web