BEIRUT, (Reuters) – President Bashar al-Assad said yesterday Syria would spare no effort to ensure the success of international envoy Kofi Annan's peace mission but warned it would not work without securing an end to foreign funding and arming of rebels opposing him.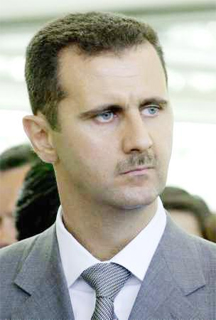 Assad is under international pressure to call his troops and tanks back to their bases, a year into a popular revolt against his iron rule. Fighting between troops and rebels killed at least 38 more people yesterday, 15 of them soldiers.
The state news agency SANA quoted Assad, in a letter to the leaders of the BRIC economic powers, which include his key ally Russia, as saying "countries which support the armed groups with money and weapons must be persuaded to stop this immediately".
At the same time, Britain said it was doubling non-military aid to opponents of Assad and expanding its scope to equipment, possibly including secure telephones to help activists communicate more easily without fear of detection and attack.
The aid, worth $800,000, "includes agreement in principle for practical non-lethal support to them inside Syria," Foreign Secretary William Hague said.
Arab leaders at a summit in Baghdad endorsed the peace plan floated by Annan, the special U.N. and Arab League envoy on Syria, and – betraying scepticism about Assad's commitment — called for it to be implemented "immediately and completely". The six-point plan envisages a ceasefire, possibly under U.N. monitoring, a withdrawal of heavy weapons and troops from population centres, humanitarian assistance, release of prisoners and free movement and access for journalists to Syria.  Arab League leaders quietly dropped an earlier demand that Assad give up the presidency. The Annan plan, endorsed by the U.N. Security Council, makes no such demand, unlike a previous blueprint for change that was vetoed by Russia and China.
"The solution for the crisis is still in the hands of the Syrians as a government and opposition," Arab League Secretary-General Nabil Elaraby told the summit gathering in the Iraqi capital, the first there in 20 years.
Earlier, the League took a line closer to the hardline stance of Qatar and Saudi Arabia, calling for Assad to transfer powers to a deputy to allow for a unity government and early elections.
But a shift in the Arab position transpired after Russia and China blocked a Security Council endorsement of that proposal and the Arab League's own observation mission in Syria unravelled from internal splits, failing to stem the bloodshed. Syria's opposition groups continue to demand that Assad must go, and have not agreed to any peace talks with his government.
Elaraby called for the Security Council to issue a binding resolution to "not only stipulate the necessity of stopping the violence, but also finding a suitable mechanism to cease fire."
One idea Annan is pushing is a U.N. observer mission, diplomats say, and Elaraby said there had been suggestions that there should be "Arab participation".
ASSAD'S DEMANDS
"President Assad said that for his mission to succeed, Annan must focus on drying up the wells of support for terrorism pointed at Syria, especially from countries which have announced that they are arming and financing the terrorist groups in Syria," SANA reported.
Around the Web