GUATEMALA CITY,  (Reuters) – Guatemalan President Otto Perez accused Washington yesterday of pressuring Central American leaders to boycott a summit he convened last Saturday to discuss changes on drug policy in the region, including decriminalization of narcotics.
"The boycott was because of fears in the United States that our region could unite around decriminalizing drugs," Perez, a right-wing retired general, told reporters.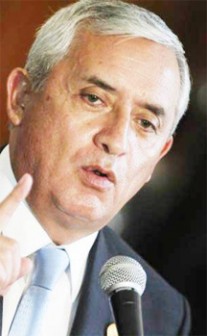 Perez set out various proposals to tackle rampant drug-fueled violence in Central America at the summit, including decriminalizing production, transit and consumption of drugs, and making consumer countries like the United States pay for drug busts. El Salvador's President Mauricio Funes said on Wednesday that he and two Central American counterparts – Daniel Ortega of Nicaragua and Porfirio Lobo of Honduras – refused to attend the summit because they do not share Perez's view that a regional decriminalization policy will reduce crime.
"When this summit was called it was said that Guatemala's proposal to decriminalize drugs would be one point on the agenda, but it was never said that Perez's decriminalization pitch would be a regional effort," Funes said. Funes said during a visit to Guatemala last month that he favored a debate on legalization, but quickly changed his tune when he returned to El Salvador.
Perez said that caved in under U.S. pressure.
"The boycott was not because of the Salvadoran president," he said. "The United States used the position of the Salvadoran president to force the boycott because they believe that we could unite around decriminalization."
Costa Rican President Laura Chinchilla, who attended the summit, aims to seek help on fighting drug cartels at the United Nations when she visits New York between March 31 and April 3.
That stance reflects growing concern in Central America about the mounting cost of the drug war, which is prompting some leaders to take a more independent line from the United States.
Around the Web