YANGON (Reuters) – Myanmar holds crucial by-elections today that are expected to see Aung San Suu Kyi, who led the fight for democracy under the former junta, entering parliament for the first time and could lead to an easing of sanctions by the West.
The United States and European Union have hinted economic sanctions – imposed years ago in response to human rights abuses – could be lifted if the election is free and fair, which could unleash a wave of investment in the impoverished but resource-rich country bordering India and China.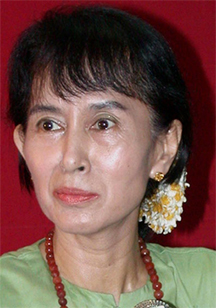 A civilian government took office a year ago after almost five decades of military rule and has surprised the world with the speed at which it has implemented political and economic reforms, including freeing hundreds of political prisoners.
To be regarded as credible, the vote needs the blessing of 66-year-old Suu Kyi, a Nobel Peace Prize laureate who was herself freed from house arrest in November 2010, just after the general election that led to the civilian government the following March.
That election was widely seen as rigged to favour the military-backed Union Solidarity and Development Party (USDP), the biggest in parliament, and Suu Kyi's National League for Democracy (NLD) boycotted the vote.
Suu Kyi appears to have taken a gamble after the reforms pushed through by President Thein Sein, who was himself a general in the former junta. She has called him "honest" and "sincere" and accepted his appeal for the NLD to take part.
Her party is competing for 44 of the 45 by-election seats, but has complained of irregularities that could undermine the vote.
"What has been happening in this country is really beyond what is acceptable for a democratic election. Still, we are determined to go forward because we think that is what our people want," a frail but defiant Suu Kyi told reporters outside her lakeside house in Yangon on Friday.
Around the Web