LILONGWE (Reuters) – Prominent women's rights campaigner Joyce Banda was sworn in as Malawi's president on Saturday, becoming southern Africa's first female head of state and raising hopes for a fresh start in the small, poor nation after the death of her mercurial predecessor.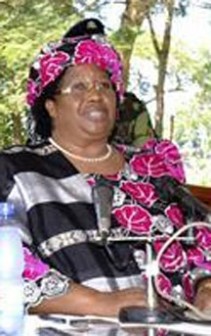 Banda, a 61-year-old policeman's daughter who has won international recognition for championing the education of underprivileged girls, had served as vice president under Bingu wa Mutharika, who died on Thursday following a heart attack.
She succeeded him under the terms of the constitution.
Aid-dependent Malawi had slid into economic crisis over the last year as Mutharika, a professorial but temperamental former World Bank economist, squabbled with major western donors who then froze millions of dollars of assistance.
Banda took the oath of office yesterday in the Chinese-built National Assembly in the capital Lilongwe, as flags flew at half mast in mourning for Mutharika, whose death was only officially announced by Malawi's government yesterday.
"I want all of us to move into the future with hope and a spirit of unity," Banda, wearing a black, silver and pink robe and headdress, said amid loud applause and singing.
The two-day delay in the official announcement of Mutharika's death had raised worries that there could be a power struggle. Banda was expelled from Mutharika's Democratic Progressive Party (DPP) in 2010 after an argument about the succession, though she retained her state position.
But fears of a political crisis in the landlocked former British colony receded as top officials and the army backed the handover of the presidency to Banda under the constitution.
In a sign that she has support across the political spectrum, opposition leaders called for her to be swiftly sworn in as head of state and some 20 members of the DPP's national governing council also backed her.
Banda said she had already held a "good meeting" with Mutharika's Cabinet.
Malawians, many of whom had viewed Mutharika as a stubborn autocrat, appeared to welcome their first female president.
"We now have a female president, this to me is the greatest day because she is a mother and a mother always takes care of her children," said Alice Pemba, a vendor in Lilongwe.
"She will be able to do a good job and surmount the challenges to work with the IMF and World Bank and win back the donor support which we need," said a local businessman who gave his name only as Tiyazi.
Around the Web