WASHINGTON, (Reuters) – Brazilian President Dilma Rousseff complained about U.S. monetary policy and failed to make major progress on trade in a White House meeting with President Barack Obama yesterday, highlighting strains between the Western Hemisphere's two biggest economies.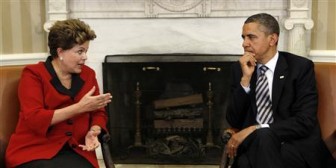 Rousseff said that while expansionary monetary policies in wealthy nations were needed to keep global economic problems from becoming worse, she worried about the unintended consequences for developing countries such as Brazil.
Brazilian officials have blamed low interest rates and bond-buying programs in Europe and the United States for causing a "monetary tsunami" that has caused liquidity to flow into Brazil, pushing up the value of its currency and making its exports less competitive.
"Expansionist monetary policies … ultimately lead to a depreciation in the value of the currencies of developed countries, thus impairing growth outlooks in emerging countries," Rousseff said.
Speaking at a press briefing shortly afterward, White House spokesman Jay Carney declined to comment on how Obama responded to Rousseff's concerns.
Rousseff's comments punctuated a visit that saw leaders from both countries talk of the need for greater trade, investment and cooperation, but yielded no major breakthroughs.
Obama, also speaking in the Oval Office, referred to Rousseff as a "good friend" and congratulated Brazil for making "extraordinary progress" in reducing poverty.
"Our trade and investment is reaching record levels, which creates jobs and business opportunities in both countries," Obama said as the two leaders sat side by side.
U.S. business leaders are eager for greater access to Brazil, which surpassed Britain last year to become the world's sixth biggest economy and has seen about 30 million people join the middle class in the past decade.
Brazil is also due to host the 2014 World Cup and 2016 Olympics, and U.S. companies are seeking participation in infrastructure projects related to the international sporting events.
But talks over greater trade integration have yielded little progress. A joint statement released by Rousseff and Obama after their meeting said they had "further emphasized the importance of the mutual benefits of stimulating increased trade and investment," but mentioned no major advances.
WORRIES ABOUT
COMPOSITION OF
U.S.-BRAZIL TRADE
Brazilian Foreign Minister Antonio Patriota told business leaders earlier yesterday he was worried about the high percentage of commodities in trade with the United States, and expressed hopes that country would soon begin buying more manufactured goods from Brazil.
"It's true that the composition of this trade is not ideal," Patriota said.
Brazilian officials complained privately before Rousseff's visit, her first to the White House as president, that the Obama administration was not adequately recognizing Brazil's growing role in global affairs. Officials told Reuters they were disappointed for example that their agenda did not include a dinner for Rousseff.
Speaking at a business forum before the White House meeting, U.S. Secretary of State Hillary Clinton called the U.S.-Brazil relationship "one of the most consequential relationships for the 21st century."
Around the Web