GETTYSBURG, Pa.,  (Reuters) – Rick Santorum ended his improbable run for the White House yesterday after leading a Republican tilt to the right that could dog the more moderate front-runner, Mitt Romney, in November's election.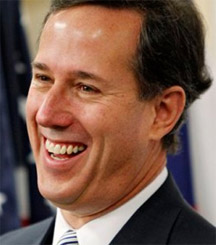 Trailing in polls and fundraising, the conservative former senator suspended his campaign and cleared the way for Romney to clinch the nomination to face President Barack Obama in the Nov. 6 general election.
A staunch social conservative with a penchant for sweater vests, Santorum was the underdog who clawed his way to near the top of the Republican race and won the first 2012 nominating contest in Iowa by a whisker.
His rise forced the issues of birth control and the role of Christianity in public life to the forefront of the campaign, when former executive Romney sought to focus on the economy.
"Over and over again we were told 'Forget it, you can't win.' We were winning, but in a different way, we were touching hearts, we were raising issues that frankly a lot of people didn't want to have raised," Santorum said at a news conference in a hotel near the Civil War battlefield site of Gettysburg.
Santorum proved to be a more formidable opponent to Romney than many expected, especially in light of a historic 18-percentage point defeat in his Senate re-election bid in 2006. His strong opposition to gay marriage and abortion offered Republican voters a stark contrast with Romney's more moderate record.
Romney moved to the right on social issues to try to outflank Santorum but that leaves him, and Republican congressional candidates, exposed in November when the electorate will be more moderate.
Around the Web