STRASBOURG, France, (Reuters) – Britain can extradite its most notorious Islamist cleric to the United States to stand trial on charges that he supported al Qaeda and aided a fatal kidnapping in Yemen, the European Court of Human Rights ruled yesterday.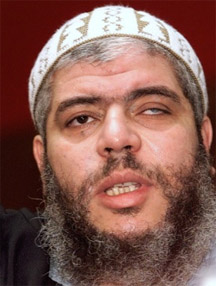 Egyptian-born Abu Hamza al-Masri, a one-eyed radical with a metal hook for a hand who praised the Sept. 11, 2001 attacks, faces a sentence of over 100 years in high-security U.S. prisons if found guilty, a step he said would contravene his human rights.
But the seven judges at the Strasbourg-based European Court of Human Rights ruled unanimously that sending Hamza and four other suspects to such "Supermax" penitentiaries would be lawful and that they would not receive "inhuman and degrading treatment".
The court gave the suspects – including Babar Ahmad, Syed Tahla Ahsan, Adel Abdul Bary and Khaled Al-Fawwaz – three months to appeal against the ruling to a panel of five European judges. The case, pitting the rights of men suspected of grave crimes against the demands of the United States for justice, has electrified the British media, which vilified Hamza as "the hook-handed hate preacher" and agitated against hindrances to his extradition. "Sling your hook," a frontpage headline in Britain's best selling newspaper, The Sun, once read, next to a picture of the preacher.
The Strasbourg court said U.S. authorities would however not allow Hamza, who sports a metal hook after losing his hands in unclear circumstances in Afghanistan, to serve his sentence in the Florence Administrative Maximum Facility (ADX) prison in Colorado because of his disabilities. Usually known for needling governments over human rights breaches, the court ruled that incarceration in Florence ADX – known as the "Alcatraz of the Rockies" and home to gang leaders, serial killers and bombers – for the other suspects would not amount to ill-treatment.
Around the Web