CARACAS (Reuters) – Venezuela's President Hugo Chavez will not attend this weekend's hemispheric summit in Colombia and will instead fly straight to Cuba to continue radiation treatment for cancer, his foreign minister said yesterday.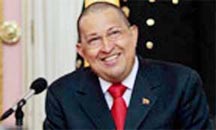 The 57-year-old socialist leader said on Friday the radiation therapy was physically tiring and that his doctors were evaluating whether he should go to the "Summit of the Americas" en route to Havana for a fourth session.
"On the recommendation of his medical team, President Chavez decided not to attend this event," Venezuela's Foreign Minister Nicolas Maduro told reporters in Cartagena at the meeting of about 30 heads of state, including US President Barack Obama.
"Today he leaves for Havana to continue to his treatment, which is going excellently," Maduro said.
Chavez said on Friday he planned to stay in Cuba longer than on his recent trips to complete his radiation treatment of five sessions. Yesterday, Venezuela's National Assembly legislature authorized him to leave the country for up to 90 days.
Around the Web