(Reuters) – Berkshire Hatha-way Inc Chief Executive Warren Buffett disclosed yesterday that he has stage 1 prostate cancer but said his condition "is not remotely life-threatening or even debilitating in any meaningful way."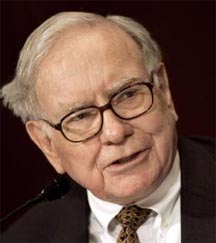 Buffett said in a statement he will begin a two-month treatment consisting of daily radiation treatments starting in mid-July. This will limit his ability to travel during that time, he added.
The news from the 81-year-old "Oracle of Omaha" is likely to intensify the already brewing debate about the succession plan at Berkshire Hathaway, a conglomerate that employs more than 270,000 people in more than 70 businesses around the world.
Buffett told investors in late February that Berkshire had identified his successor, but in typically circumspect fashion, declined to say who it was – and ultimately admitted that even the chosen one does not know, himself.
The news comes one day after Republicans in the U.S. Senate blocked the "Buffett rule," a tax on millionaires whose idea was born of a now-famous editorial Buffett wrote in the New York Times last year, saying the rich had an obligation to pay more income tax.
That debate ensnared Buffett's secretary as well. After Buffett said she paid more taxes than he did, President Barack Obama invited Debbie Bosanek to attend this year's State of the Union address.
Berkshire shares fell 1.5 percent in after-hours trading following Buffett's announcement. The widely held Class B shares are up 5.9 percent year-to-date, half the gains of the broader S&P 500.
Stifel Nicolaus analyst Meyer Shields, in a note to clients, said he expected some weakness in the stock on Wednesday but added the news did not necessarily make the succession worries behind his "hold" rating any more imminent.
Around the Web