BEIRUT/UNITED NATIONS, (Reuters) – Syria and the United Nations signed an agreement yesterday on terms for hundreds of observers to monitor a ceasefire, but fierce diplomatic wrangling lies ahead to persuade the West the mission can have the authority and power to ensure peace.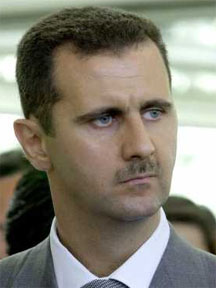 A handful of U.N. observers are already in Syria monitoring a week-old truce that has failed to stop bloodshed. The question of whether the mission can expand while violence continues is up in the air. A crowd mobbed the head of the advance party yesterday, some demanding the death of President Bashar al-Assad.
The U.N. Security Council – divided between Western countries that want to topple Assad and Russia and China, which support him – must agree the proposal to send a larger observer force. Russia made clear it wants the 15-member council to move now to expand the small mission, while the West is hesitating.
Senior officials from France, the United States, Britain and other Western states met in Paris with Middle East countries including Turkey, Qatar and Saudi Arabia. They agreed the truce was the "last hope" of avoiding an all-out civil war. But Russia snubbed an invitation and derided the "Friends of Syria" meeting.
U.S. Secretary of State Hillary Clinton told the group in Paris that they should push for a Security Council resolution to impose U.N. sanctions on Assad if he blocked an adequate peace monitoring mission. She said Russia, while still likely to veto such a measure now, might support one if violence went on.
In the first progress report since the council authorised the arrival of the initial observers on Saturday, U.N. Secretary-General Ban Ki-moon said Syria had not fully withdrawn troops and heavy weapons from towns as agreed, failing to send a "clear signal" about its commitment to peace. He also recommended raising the number of observers to up to 300.
Yesterday, the Security Council was briefed by mediator Kofi Annan's deputy, Jean-Marie Guehenno. According to council diplomats, Guehenno acknowledged risks of deploying unarmed observers while violence persists, but said their presence could help by changing the political dynamics on the ground.
This view was shared by Russian U.N. Ambassador Vitaly Churkin, who said "we need to respond to (Ban's) request, to his proposal to authorize the full-fledged monitoring mission."
"For a cessation of violence to be firmed up, the further deployment of the monitoring mission could play a very important role," he said.
U.S. Ambassador Susan Rice, however, said some countries had concerns about the fact that Damascus had not ended the violence and had not granted the observers full freedom of movement.
FIG-LEAF FEARS
Assad's opponents fear that a small observer mission with a weak mandate would act as little more than a fig leaf for the government, blocking more robust intervention to halt a 13-month crackdown on cities that have risen up against Assad.
Around the Web