CARACAS,  (Reuters) – An accused Venezuelan drug lord wanted by the United States said yesterday he made monthly payments to a former judge who recently embarrassed President Hugo Chavez with accusations of widespread manipulation in the OPEC nation's justice system.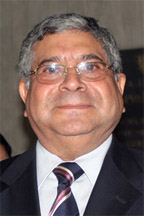 The statement by Walid Makled, considered a major trafficker who is now on trial in Venezuela, is likely to fuel criticism by opposition leaders and U.S. authorities over the socialist government's alleged complicity with the drug trade.
Former Supreme Court judge Eladio Aponte, who fled Venezuela this month after being accused of assisting Makled, caused a fire storm by accusing Chavez's government of systematically manipulating the courts – including meddling in drug cases.
The Chavez government said he "sold his soul" to the U.S. Drug Enforcement Administration, or DEA.
Makled said payments to Aponte were related to joint business interests in Venezuelan airline Aeropostal.
"We were partners in Aeropostal, I gave him 300 million per month," he said in a tumultuous entrance to a court hearing in Caracas, jostled by reporters and camera crews.
The figure appeared to correspond to around $70,000 per month, based on the value of the local bolivar currency before a 2008 monetary recalibration took three zeroes off prices.
A representative of Aeropostal, asked if Aponte had been a shareholder, told Reuters he could not comment on the issue. Makled's multiple business interests in Venezuela included Aeropostal as well as the nation's largest port.
An interior ministry spokesman did not immediately respond to requests for further details of what the payments were for.
The intertwining Makled and Aponte cases have stolen the media spotlight as Chavez struggles to overcome an undisclosed type of cancer that could threaten his chances of re-election in the upcoming Oct. 7 presidential vote.
This appears to strengthen the credibility of whatever Aponte says to the authorities in the United States," said Jeremy McDermott of InSight Crime, a security think tank.
"It also seems to indicate that there was a link between the two of them, and if we believe Makled, a relatively strong link."
GOVERNMENT PAYOFFS
Washington calls Venezuela a key trafficking route for Colombian cocaine heading to the United States.
Chavez says the country has made great progress in fighting drugs and describes the accusations as a politically motivated smear campaign. Venezuela halted cooperation with the DEA in 2005 on grounds it violated Venezuelan sovereignty,
Makled has said he built up a fortune of more than $1 billion with the help of Venezuelan government officials he has said included 40 army officers on his payroll.
He was captured in 2010 in Colombia and extradited to Venezuela – rather than to the United States, which also sought him – in a diplomatic gesture to improve frayed ties between the Andean neighbors.
The situation returned to the spotlight after Aponte, who was fired following allegations he helped Makled secure a government identification card, gave the interview last week detailing corruption in the Venezuelan judicial system.
He described one incident in which he was ordered to free a military officer arrested for drug-running.
Aponte fled to Costa Rica where he contacted the DEA and was flown to Washington, a Costa Rican official told Reuters.
Should he cooperate with the DEA, Aponte would be the highest-ranking ex-Venezuelan official to testify about corruption in Chavez's socialist government.
Venezuelan officials have bristled at Aponte's allegations, calling him a corrupt fugitive who is being protected by Washington and seeking his arrest via Interpol.
Around the Web