BEIJING,  (Reuters) – Blind legal activist Chen Guangcheng, one of China's most prominent human rights advocates, has escaped from home imprisonment, activists said yesterday, and there were unconfirmed reports he had taken refuge in the U.S. Embassy in Beijing.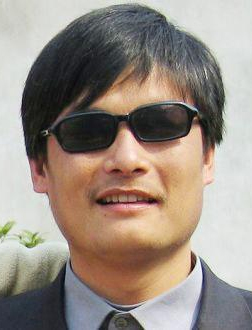 Chen, a self-schooled legal advocate who campaigned against forced abortions, had been restricted to his village home in Linyi in eastern Shandong province since September 2010 when he was released from jail.
His confinement and relentless surveillance with his family fanned protests by Chinese sympathisers and criticism from foreign governments and activist groups.
Chen's reported escape and the furor it has unleashed could add to the headaches of China's ruling Communist Party, which is striving to ensure stability and authority before a leadership transition later this year.
It also threatened to overshadow a visit by U.S. Secretary of State Hillary Clinton and Treasury Secretary Timothy Geithner, who are due to visit Beijing next week for the annual "strategic and economic dialogue" between the two countries.
Hu Jia, a human rights advocate in Beijing who has supported Chen, told Reuters he believed Chen was under U.S. diplomatic protection.
"It's clearly understood that his supporters took Chen Guangcheng to the safest place, and our understanding is that the safest place means the United States Embassy," said Hu, who was himself jailed for his outspoken criticism of the Chinese government. "If you ask other embassies whether they have Chen Guangcheng, they will say no. But if you ask the U.S. Embassy, they say nothing, so we believe he is there."
The U.S. Embassy and China's  Foreign Ministry both said they had no immediate comment.
In Washington, the State Department repeatedly declined to answer questions about Chen's case. "I don't have anything for you on that subject," State Department spokeswoman Victoria Nuland said.
Bob Fu, president of the Texas-based religious and political rights advocacy group ChinaAid, said in a statement that Chen was in Beijing and "100 percent safe."
In a video posted on YouTube, Chen confirmed he had escaped, and asked Premier Wen Jiabao to order an investigation into the maltreatment of him and his family by local officials.
"It was not at all easy, but I have escaped," he said in the video. "Everything that was said on the Internet about the violence directed against me by Linyi, I'm here to say that it was all true."
Around the Web