CARACAS (Reuters) – Venezuelan President Hugo Chavez made his first live public appearance in two weeks yesterday to announce a new workers' law prior to his return to Cuba for more cancer radiation therapy.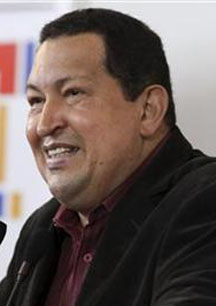 The 57-year-old socialist leader has been shuttling between Caracas and Havana for treatment on an unspecified cancer that is hampering his ability to campaign for an October 7 presidential election in the OPEC member nation.
Chavez's last live public appearance had been on April 13, though he phoned state TV several times and was seen in a pre-recorded video from Havana.
"These are not easy days, but we are warriors against adversity," he said in an address to the nation announcing a major overhaul of labour legislation.
The Venezuelan president has become increasingly candid about the impact of radiotherapy and his fight against cancer, and rumours are rife that he may not reach the election or be in a fit state to govern afterwards should he win.
Chavez, though, looked relatively robust, albeit swollen-faced, and stood throughout his roughly half-hour address from the Miraflores presidential palace in Caracas.
He said he was flying back to Cuba later yesterday, but was in the final stages of radiotherapy and would soon be back to play baseball with military friends and beat opposition candidate Henrique Capriles in the October vote.
Polls show him well ahead, partly thanks to sympathy over his cancer and also due to his popularity among the poor founded on his government's heavy, oil-financed welfare spending.
"With faith in God, in Christ the Redeemer and with the immense love of the Venezuelan people … we will get through. We will live, we will conquer," added Chavez, his voice choking and fighting back tears as he finished his address.
Using decree powers granted by Venezuela's National Assembly, where the government has a majority, Chavez signed the biggest labour law reform since he took power in 1999.
Changes include an extension of maternity leave to six months, a four-hour reduction in the work week to 40 hours, and more severance benefits.
"It's a fair, liberating law," said Chavez.
Already reeling from 13 years of socialism and an aggressive state policy against private business, some small companies fear the labour changes could put them out of business.
Analysts say the state, whose workforce has ballooned due to nationalizations across large swathes of the economy, will face a much larger bill to comply with the reforms.
And opposition leader Capriles said at the weekend Chavez's reforms were clearly an electoral ploy and did not tackle Venezuelans' main concern: unemployment
.
Capriles, a young centre-left governor who wants to copy Brazil's model of free-market economics coupled with strong welfare policies in Venezuela, also criticized the lack of widespread consultation over the labour changes.
"The labour law was discussed between the four walls of Miraflores palace among ministers and bureaucrats," he said. "It seems to be a law made for electoral purposes."
Chavez's opponents have criticized him for keeping the country in the dark about the extent of his illness, raising suspicions his cancer may have spread from an initial baseball-sized tumor that was removed from his pelvis.
Most recent opinion polls have given Chavez a comfortable double-digit lead over Capriles, who is struggling to capture public attention with a nationwide "house-by-house" tour.
In an interview with a local newspaper yesterday, however, Capriles claimed private polling by his Democratic Unity coalition showed him "head-to-head" with Chavez.
Around the Web