PARIS (Reuters) – Nicolas Sarkozy was headed for an election defeat today that could make him the 11th European leader to be swept from office by the economic crisis and crown Francois Hollande as France's first Socialist president in 17 years.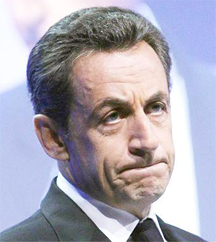 Buoyed by a tide of anger over Sarkozy's inability to rein in rampant unemployment during his five-year term, Hollande was between four and eight points ahead in final opinion polls for a vote that could mean a shift in direction for Europe.
Despite shaving a couple of points off Hollande's lead in the last days of a frenetic campaign, the conservative's own aides privately admitted it would require a miracle for him to turn the odds in his favour and clinch a second term."He's like a runner – he  won't consider it's over until the very end, but I'd say he has one chance in six," a member of Sarkozy's inner circle told Reuters on condition of anonymity shortly before campaigning drew to a halt on Friday.
"Uncertainty about the outcome of the vote has fallen to an extremely low level," said BNP Paribas economist Dominique Barbet. Hollande, a mild-mannered and popular career politician, has held a steady lead for weeks after outlining a comprehensive programme in January based on raising taxes, especially on high earners, to finance spending and keep the public deficit capped.
As much as his own programme, he is benefiting from a tide of anti-Sarkozy sentiment due in part to the incumbent's showy and occasionally arrogant personal style and in part to anger over the same economic gloom that has felled leaders from Britain to Portugal.
The vote coincides with a Greek election where voters are also expected to punish major parties for economic misery.
"Clearly the voting public is getting fed up with failed policies," Nobel Prize-winning economist Paul Krugman told Reuters TV in New York.
Around the Web