LOS ANGELES (Reuters) – Hal David, a lyricist who along with Burt Bacharach wrote such hits as "Raindrops Keep Fallin' on my Head" and "Walk on By", died in Los Angeles yesterday aged 91, a representative said.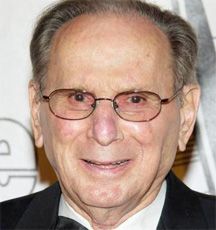 David passed away at Cedars-Sinai Medical Center of complications from a stroke, said Jim Steinblatt, spokesman for the American Society of Composers, Authors and Publishers.
Earlier this year, David and Bacharach received the Gershwin Prize for Popular Song from the Library of Congress, during a White House musical tribute.
David, a native of Brooklyn, New York, began working with Bacharach in the late 1950s and their songs have been recorded by such artists as Dionne Warwick, Marty Robbins and Tom Jones. Bacharach and David's song "Raindrops Keep Fallin' on my Head" was written for the 1969 movie Butch Cassidy and the Sundance Kid and won the Academy Award for Best Song.
The duo's other hits included "I Say a Little Prayer", "Do You Know the Way to San Jose", and "(They Long to Be) Close to You", which is best known from a version by The Carpenters.
David is survived by his wife Eunice and his sons Jim and Craig, three grandchildren and two stepsons.
Around the Web