GAZA,  (Reuters) – Two rockets fired from the Gaza Strip targeted Tel Aviv yesterday in the first attack on Israel's commercial capital in 20 years, raising the stakes in a showdown between Israel and the Palestinians that is moving towards all-out war.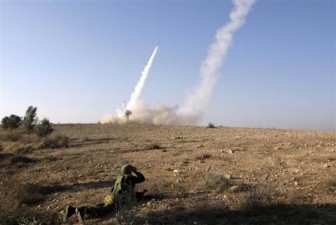 Earlier, a Hamas rocket killed three Israelis north of the Gaza Strip, drawing the first blood from Israel as the Palestinian death toll rose to 19, six of them children.
Israeli warplanes bombed targets in and around Gaza city for a second day, shaking tall buildings. In a sign of possible escalation, the armed forces spokesman said the military had received the green light to call in up to 30,000 reserve troops.
Plumes of smoke and dust furled into a sky laced with the vapour trails of outgoing rockets over the crowded city, where four young children killed on Wednesday were buried.
Israeli Defence Minister Ehud Barak said Palestinian militants would pay a price for firing the missiles.
In the latest air strikes, three people were killed when a missile hit their car in the northern Gaza Strip. The Israeli military also said it had carried out aerial attacks and had destroyed 70 unmanned missile launch sites.
An electricity generator supplying the home of Hamas prime minister Ismail Haniyeh by the Gaza shore was one of the sites hit by Israeli missiles.
The conflict, launched by Israel with the killing of Hamas's military chief, pours oil on the fire of a Middle East already ablaze with two years of revolution and an out-of-control civil war in Syria.
Israel says its attack is in response to escalating missile strikes from Gaza. Israel's bombing has not yet reached the saturation level seen before it last invaded Gaza in 2008, but Israeli officials have said a ground assault is still possible.
Egypt's new Islamist President Mohamed Mursi, viewed by Hamas as an ally, led a chorus of denunciation of the Israeli strikes by Palestinian allies.
Mursi's prime minister, Hisham Kandil, will visit Gaza today with other Egyptian officials in a show of support for the enclave, an Egyptian cabinet official said. Israel promised that the delegation would come to no harm.
Israeli police said three Israelis died when a rocket hit a four-story building in the town of Kiryat Malachi, 25 km (15 miles) north of Gaza, the first Israeli fatalities of the latest conflict to hit the coastal region.
Comments

CARACAS,  (Reuters) – Venezuela is preparing an international summit to rally support for an all-powerful lawmaking body, whose recent creation drew widespread foreign condemnation as a power grab by leftist President Nicolas Maduro.
SUBIRATS, Spain, (Reuters) – Spanish police yesterday shot dead an Islamist militant who killed 13 people with a van in Barcelona last week, ending a five-day manhunt for the perpetrator of Spain's deadliest attack in over a decade.

(Reuters) – Comedian Jerry Lewis died of end-stage heart disease when he passed away at his home at age 91 in Las Vegas on Sunday, Clark County Coroner John Fudenberg said yesterday.
WASHINGTON,  (Reuters) – President Donald Trump opened the door to an increase in U.S.
MAPUTO, (Reuters) – Mozambique's government plans to set up a sovereign investment fund where taxes paid on sales of the country's minerals will be used to finance development projects, state-run AIM news agency said on Monday quoting the finance minister.