RAMALLAH, West Bank  (Reuters) – The body of the Palestinian leader Yasser Arafat will be exhumed today by a team of international experts trying to discover if he was poisoned, as many Palestinians believe.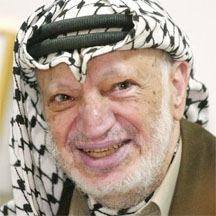 French magistrates opened a murder inquiry in August into Arafat's death in Paris after a Swiss institute said it had discovered high levels of radioactive polonium on his clothing, which was supplied by his widow, Suha.
Arafat, who led the Palestinians' bid for a state through years of war and peace, died in Paris aged 75 in 2004 after a short, mysterious illness.
No autopsy was carried out at the time, at the request of Suha, and French doctors who treated him said they were unable to determine the cause of death.
But allegations of foul play immediately surfaced, with many locals pointing the finger at Israel, which confined Arafat to his West Bank headquarters in Ramallah for the final two and a half years of his life after a Palestinian uprising erupted.
Israel has denied any wrongdoing, inviting the Palestinian leadership to release all his medical records, which were never made public following his death.
Experts from Switzerland, France, Russia and the Palestinian territories will all take part in the exhumation, being carried out far from the public gaze, behind blue sheeting that has been carefully erected around his limestone mausoleum in Ramallah.
Workers have strung up a huge Palestinian flag to cover the top of the city centre landmark, which lies inside the presidential compound of Arafat's successor, Mahmoud Abbas.
"Samples will be taken according to a very strict protocol and these samples will be analyzed," said Darcy Christen, spokesman for the Lausanne University Hospital in Switzerland that carried out the original tests on Arafat's clothes.
"In order to do these analyses, to check, cross check and double cross check, it will take several months and I don't think we'll have anything tangible available before March or April next year," he added.
Polonium, apparently ingested with food, was found to have caused the death of former Russian spy Alexander Litvinenko in London in 2006. But some experts have questioned whether Arafat could have died in this way, pointing to a brief recovery during his illness that they said was not consistent with radioactive poisoning. They also noted he did not lose all his hair.
Eight years is considered the limit to detect any traces of the fast-decaying Polonium and the Lausanne hospital questioned in August if it would be worth seeking any samples if access to Arafat's body was delayed to "October or November".
Comments

CARACAS,  (Reuters) – Venezuela is preparing an international summit to rally support for an all-powerful lawmaking body, whose recent creation drew widespread foreign condemnation as a power grab by leftist President Nicolas Maduro.
SUBIRATS, Spain, (Reuters) – Spanish police yesterday shot dead an Islamist militant who killed 13 people with a van in Barcelona last week, ending a five-day manhunt for the perpetrator of Spain's deadliest attack in over a decade.

(Reuters) – Comedian Jerry Lewis died of end-stage heart disease when he passed away at his home at age 91 in Las Vegas on Sunday, Clark County Coroner John Fudenberg said yesterday.
WASHINGTON,  (Reuters) – President Donald Trump opened the door to an increase in U.S.
MAPUTO, (Reuters) – Mozambique's government plans to set up a sovereign investment fund where taxes paid on sales of the country's minerals will be used to finance development projects, state-run AIM news agency said on Monday quoting the finance minister.