MEXICO CITY,  (Reuters) – Mexico's incoming president, Enrique Pena Nieto, picked close allies yesterday to head the finance and interior ministries as he seeks to craft economic reforms and reduce drug violence in Latin America's second-biggest economy.

Right-hand man Luis Videgaray will take on the Finance Ministry, while Pena Nieto's close political ally Miguel Angel Osorio Chong will oversee a more powerful Interior Ministry that will be responsible for security in the new government.
Their task will be to push through tax and oil reforms and restore order in a country where over 60,000 people have died in turf wars between drug gangs and clashes between cartels and security forces under outgoing President Felipe Calderon.
Pena Nieto, 46, who will be sworn in for a six-year term as president on Saturday, is hoping to win over skeptics about the return to power of his centrist Institutional Revolutionary Party, or PRI. The party's reputation was marred by corruption, authoritarianism and frequent allegations of vote-rigging during its 71 years of unbroken rule that ended in 2000.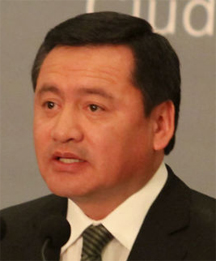 "Honesty, results on security and a progressive attitude toward the economy – that's what the PRI must show to convince," said Federico Berrueto, director general of Mexican polling firm GCE. "And this Cabinet is aimed at getting results."
In contrast to Calderon six years ago, Pena Nieto did not present his Cabinet and was not even in attendance as Osorio Chong read the list of appointments without fanfare. The incoming ministers then left without making statements.
Seeking to build consensus across party lines, Pena Nieto also gave jobs to Calderon's last finance minister Jose Antonio Meade, who switches to the Foreign Ministry, and a former leftist mayor of Mexico City, Rosario Robles, who becomes minister for social development.
Pedro Joaquin Coldwell, who had been chairman of the PRI, was named energy minister.
Gabriel Casillas, an economist at bank Banorte, noted the Cabinet had several members educated at prestigious universities in Mexico and the United States, saying it should help enhance the country's image in the eyes of international investors.
"They have a lot of technocrats, but not just technocrats – people with experience in Congress and that's what we need for reforms," Casillas said.
The ministerial posts do not require ratification by Congress, although the appointment of veteran PRI politician Jesus Murillo as attorney general does.
OIL AND TAXES
The PRI has trumpeted its desire to pass legislation aimed at stamping out corruption and creating more transparency, but the main planks to its vision for a stronger economy are plans to expand the tax base and reinvigorate oil monopoly Pemex.
Videgaray and Osorio Chong will have to thrash out political deals to boost Mexico's tax take, which is the lowest in the Organization for Economic Coopera-tion and Development as a proportion of gross domestic product.
Supported by incoming Economy Minister Ildefonso Guajardo, 55, the two will aim to break with PRI tradition by allowing more private investment in Pemex, a symbol of Mexican self-sufficiency, which the party created in 1938. Since 2004, output of the oil giant has slumped, calling its future into question.
Comments

BARCELONA,  (Reuters) – Spain mounted a sweeping anti-terror operation yesterday after a suspected Islamist militant drove a van into crowds in Barcelona, killing 13 people before fleeing, in what police suspect was one of multiple planned attacks.

BRIDGEWATER, N.J./WASHINGTON,  (Reuters) – President Donald Trump yesteday decried the removal of monuments to the pro-slavery Civil War Confederacy, echoing white nationalists and drawing stinging rebukes from fellow Republicans in a controversy that has inflamed racial tensions.

(Reuters) – Venezuela will hunt down and jail leaders of violent protests that have rocked the country since April, its new top prosecutor said yesterday, a day before a hate crimes law was expected to be approved despite fears that it will be used to crush dissent.

JOHANNESBURG, (Reuters) – South African police have put a "red alert" on the country's borders to prevent any attempted flight by Zimbabwean first lady Grace Mugabe, who is accused of assaulting a model in a Johannesburg hotel with an electric cable.
WASHINGTON,  (Reuters) – The United States and Japan will step up their defense cooperation to deal with the threat from nuclear-armed North Korea as tensions in East Asia remain high, officials from the two allies said yesterday.