CAIRO (Reuters) – Egypt's President Mohamed Mursi called a Dec. 15 referendum on a draft constitution yesterday as at least 200,000 Islamists demonstrated in Cairo to back him after opposition fury over his newly expanded powers.
Speaking after receiving the final draft of the constitution from the Islamist-dominated assembly, Mursi urged a national dialogue as the country nears the end of the transition from Hosni Mubarak's rule.
"I renew my call for opening a serious national dialogue over the concerns of the nation, with all honesty and impartiality, to end the transitional period as soon as possible, in a way that guarantees the newly-born democracy," Mursi said.
Mursi plunged Egypt into a new crisis last week when he gave himself extensive powers and put his decisions beyond judicial challenge, saying this was a temporary measure to speed Egypt's democratic transition until the new constitution is in place.
His assertion of authority in a decree issued on Nov. 22, a day after he won world praise for brokering a Gaza truce between Israel and the Palestinian Islamist Hamas movement, dismayed his opponents and widened divisions among Egypt's 83 million people.
Two people have been killed and hundreds wounded in protests by disparate opposition forces drawn together and re-energised by a decree they see as a dictatorial power grab.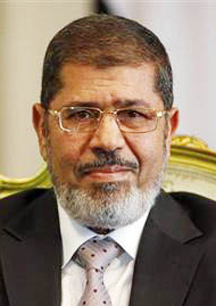 A demonstration in Cairo to back the president swelled through the afternoon, peaking in the early evening at at least 200,000, said Reuters witnesses, basing their estimates on previous rallies in the capital. The authorities declined to give an estimate for the crowd size.
"The people want the implementation of God's law," chanted flag-waving demonstrators, many of them bussed in from the countryside, who choked streets leading to Cairo University, where Mursi's Muslim Brotherhood had called the protest.
Tens of thousands of Egyptians had protested against Mursi on Friday. "The people want to bring down the regime," they chanted in Cairo's Tahrir Square, echoing the trademark slogan of the revolts against Hosni Mubarak and Arab leaders elsewhere.
Rival demonstrators threw stones after dark in the northern city of Alexandria and a town in the Nile Delta. Similar clashes erupted again briefly in Alexandria on Saturday, state TV said.
Mohamed Noshi, 23, a pharmacist from Mansoura, north of Cairo, said he had joined the rally in Cairo to support Mursi and his decree. "Those in Tahrir don't represent everyone. Most people support Mursi and aren't against the decree," he said.
Mohamed Ibrahim, a hardline Salafi Islamist scholar and a member of the constituent assembly, said secular-minded Egyptians had been in a losing battle from the start.
"They will be sure of complete popular defeat today in a mass Egyptian protest that says 'no to the conspiratorial minority, no to destructive directions and yes for stability and sharia (Islamic law)'," he told Reuters.
Mursi has alienated many of the judges who must supervise the referendum. His decree nullified the ability of the courts, many of them staffed by Mubarak-era appointees, to strike down his measures, although says he respects judicial independence.
A source at the presidency said Mursi might rely on the minority of judges who support him to supervise the vote.
"Oh Mursi, go ahead and cleanse the judiciary, we are behind you," shouted Islamist demonstrators in Cairo.
Mursi, once a senior Muslim Brotherhood figure, has put his liberal, leftist, Christian and other opponents in a bind. If they boycott the referendum, the constitution would pass anyway.
If they secured a "no" vote to defeat the draft, the president could retain the powers he has unilaterally assumed.
And Egypt's quest to replace the basic law that underpinned Mubarak's 30 years of army-backed one-man rule would also return to square one, creating more uncertainty in a nation in dire economic straits and seeking a $4.8 billion loan from the IMF.
Mursi's well-organised Muslim Brotherhood and its ultra-orthodox Salafi allies, however, are convinced they can win the referendum by mobilising their own supporters and the millions of Egyptians weary of political turmoil and disruption.
"There is no place for dictatorship," the president said on Thursday while the constituent assembly was still voting on a draft constitution which Islamists say enshrines Egypt's new freedoms.
Human rights groups have voiced misgivings, especially about articles related to women's rights and freedom of speech.
The text limits the president to two four-year terms, requires him to secure parliamentary approval for his choice of prime minister, and introduces a degree of civilian oversight over the military – though not enough for critics.
The draft constitution also contains vague, Islamist-flavoured language that its opponents say could be used to whittle away human rights and stifle criticism.
For example, it forbids blasphemy and "insults to any person", does not explicitly uphold women's rights and demands respect for "religion, traditions and family values".
Comments

NEW YORK/WASHINGTON,  (Reuters) – President Donald Trump's turnabout on the violence in Charlottesville, Virginia has rocked his administration, leading to rising speculation that some top officials may be looking for a way out.

JOHANNESBURG,  (Reuters) – Zimbabwe's first lady Grace Mugabe has sought diplomatic immunity in South Africa, where she is under investigation over the assault of a 20-year-old model in an upmarket hotel, South African police said yesterday.
PUERTO ORDAZ, Venezuela, (Reuters) – Thirty-seven inmates were killed during an overnight raid by government security forces on a prison in Venezuela's southern jungle state of Amazonas, the governor said yesterday.
NEW YORK,  (Reuters) – The U.S. Department of Homeland Security terminated a programme on Wednesday that allowed minors fleeing violence in El Salvador, Guatemala and Honduras to settle in the United States, ending travel hopes for more than 2,700 children awaiting approval.

LOS ANGELES,  (Reuters) – Tom Cruise broke his ankle on the set of the upcoming "Mission: Impossible 6," causing a halt in filming while the action star known for performing many of his own stunts recovers, Paramount Pictures said on Wednesday.