WASHINGTON,  (Reuters) – Susan Rice, the U.S. ambassador to the United Nations and a close confidante of President Barack Obama, withdrew her name from consideration as secretary of state yesterday in the face of what promised to be a contentious Senate confirmation battle.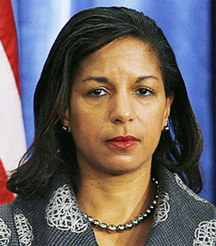 Rice has drawn heavy fire from Republicans for remarks she made in the aftermath of a Sept. 11 attack on the U.S. mission in Benghazi, Libya, in which four Americans were killed, including Ambassador Chris Stevens.
"I am highly honored to be considered by you for appointment as secretary of state," Rice said in a letter to Obama. "I am fully confident that I could serve our country ably and effectively in that role. However, if nominated, I am now convinced that the confirmation process would be lengthy, disruptive and costly."
Her decision increases the odds Obama will turn to Senator John Kerry, chairman of the Senate Foreign Relations Committee and the 2004 Democratic presidential nominee, to replace Secretary of State Hillary Clinton when she steps down early next year.
Rice's surprise withdrawal spares Obama a potentially bruising nomination fight in the Senate, even as he grapples with congressional Republicans over tax, debt and spending policy to avoid the "fiscal cliff."
An announcement of Obama's national security team could come as early as next week. Officials say Obama is giving serious consideration to nominating former Republican Senator Chuck Hagel as his defense secretary to replace the departing Leon Panetta.
Obama had harbored hopes of picking Rice, 48, as the nation's chief diplomat. She was an early foreign policy adviser to him when he ran for president in 2008 and became the first black woman to serve as U.S. ambassador to the United Nations. She was widely seen as a natural replacement for Clinton.
But Rice has faced relentless criticism from Republicans about comments she made days after the attack in Libya.
She went on five Sunday television shows on Sept. 16 to say that preliminary information suggested the assault was the result of protests over an anti-Muslim video that was made in California rather than a premeditated strike.
Comments

NEW YORK/WASHINGTON,  (Reuters) – President Donald Trump's turnabout on the violence in Charlottesville, Virginia has rocked his administration, leading to rising speculation that some top officials may be looking for a way out.

JOHANNESBURG,  (Reuters) – Zimbabwe's first lady Grace Mugabe has sought diplomatic immunity in South Africa, where she is under investigation over the assault of a 20-year-old model in an upmarket hotel, South African police said yesterday.
PUERTO ORDAZ, Venezuela, (Reuters) – Thirty-seven inmates were killed during an overnight raid by government security forces on a prison in Venezuela's southern jungle state of Amazonas, the governor said yesterday.
NEW YORK,  (Reuters) – The U.S. Department of Homeland Security terminated a programme on Wednesday that allowed minors fleeing violence in El Salvador, Guatemala and Honduras to settle in the United States, ending travel hopes for more than 2,700 children awaiting approval.

LOS ANGELES,  (Reuters) – Tom Cruise broke his ankle on the set of the upcoming "Mission: Impossible 6," causing a halt in filming while the action star known for performing many of his own stunts recovers, Paramount Pictures said on Wednesday.