WASHINGTON/NEWTOWN, Conn.,  (Reuters) – The powerful U.S. gun rights lobby called yesterday for armed police in all U.S. schools within weeks as Americans remembered the victims of the Newtown, Connecticut, school massacre with a moment of silence.
National Rifle Association Chief Executive Wayne LaPierre said attempts to keep guns out of schools were ineffective and made schools more vulnerable than airports, banks and other public buildings patrolled by armed guards.
"The only thing that stops a bad guy with a gun is a good guy with a gun," LaPierre told a news briefing, calling on lawmakers to station armed police officers in all schools by the time children return from the Christmas break in January.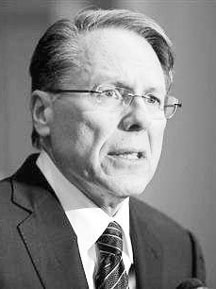 The NRA announcement came a short time after bells chimed and Americans bowed their heads to remember the 20 students, all 6 or 7 years old, and six adults killed by a gunman who opened fire with a semi-automatic assault rifle last Friday at Sandy Hook Elementary School in Newtown.
"Does anybody really believe that the next Adam Lanza isn't planning his attack on a school he's already identified at this very moment?" LaPierre asked at the NRA briefing in Washington.
LaPierre said the news media and violent video games shared blame for the second-deadliest school shooting in U.S. history. His remarks were twice interrupted by protesters who unfurled signs and shouted "stop the killing."
The slaughter of so many young children has rekindled fierce debate about U.S. gun laws. This week, some lawmakers called for swift passage of an assault-weapons ban and  President Barack Obama commissioned a task force to find a way to quell violence, a challenge in a nation with a strong culture of gun ownership. LaPierre did not take questions at the news conference. His comments drew a sharp response from gun-control advocates. "They offered a paranoid, dystopian vision of a more dangerous and violent America where everyone is armed and no place is safe," said New York City Mayor Michael Bloomberg. About 50 pro-gun-control protesters rallied outside the downtown Washington hotel where the NRA held its event. "They were blaming it on all kinds of other things instead of guns themselves," said Medea Benjamin, co-director of women's peace group Code Pink, who was escorted out of the briefing after holding up a poster that read "NRA blood on your hands." Another mass shooting occurred yesterday when a gunman killed three people and wounded three state troopers before being killed in a shootout in Frankstown Township, Pennsylvania.
'SENSE OF GUILT'
To remember the school massacre, Connecticut Governor Dannel Malloy observed a moment of silence with mourners at 9:30 a.m. EST (1430 GMT) and governors from Maine to California asked residents to follow suit. Church bells rang in tree-lined Newtown, and up and down the East Coast.
Comments

WASHINGTON/NEW YORK, (Reuters) – U.S. President Donald Trump yesterday rolled back rules regarding environmental reviews and restrictions on government-funded building projects in flood-prone areas as part of his proposal to spend $1 trillion to fix aging U.S.

JOHANNESBURG/ HARARE, (Reuters) – Zimbabwe's first lady Grace Mugabe returned home on Tuesday from South Africa after failing to turn herself in to police in Johannesburg to face accusations of assaulting a model in a hotel room.
FREETOWN, (Reuters) – Rescue workers have recovered nearly 400 bodies from a mudslide in the outskirts of Sierra Leone's capital Freetown, the chief coroner said yesterday, as morgues struggled to find space for all the dead.
NEW DELHI/SRINAGAR, India, (Reuters) – Indian and Chinese soldiers were involved in an altercation in the western Himalayas on Tuesday, Indian sources said, further raising tensions between the two countries which are already locked in a two-month standoff in another part of the disputed border.
NEW YORK, (Reuters) – President Donald Trump insisted yesterday that left- and right-wing extremists became violent during a weekend rally by white nationalists in Virginia, reigniting a political firestorm over U.S.