Dear Editor,
I listen to myself and so often I hear a record, a repetition of sounds – rather than cogent ideas. One hopes that there are not too many people who experience this same hollowness.  It is certainly, however, not a sensitivity attributable to some public officials who, at least to their credit, keep in tune with the popular communication habit of indulging in sound bites. While the advantage or otherwise of this style of expression may be open to debate amongst some, there will always be those in our community who prefer a higher, more intelligent level of communication.
One pleads pardon for focusing once again on the agricultural sector, with special reference to the sugar industry. It is just that the soundbites related thereto are, however unintentionally, so inviting, albeit for the wrong reasons. One example published late in 2011 resulted in the following (excerpted) observations most deferentially submitted to the subject Minister.
"…my colleagues have asked me to address you on some of the points you reportedly made at the press briefing published in SN of December 24, 2011.
"i)   GuySuCo's New Board
"With great respect, a careful examination of the existing board would reveal the disproportionately limited knowledge which non-executive members brought to the table at the time of their appointment.
"Care should therefore be taken not to repeat this approach, and emphasis placed on as much technical competence as may be available.
"Indeed it is by no means a novel idea to install an executive management committee, directly reporting to the 'policy' Board, and providing expert advice in the relevant operational areas."
"ii)  Technical support from foreigners
"You are reported to have opined that 'There will always be need for technical support from foreigners.'
"Again with respect, there are some who would have reservations about such a perspective, and would argue that there may well be a (cost effective) case for first reviewing skills of former industry employees for their viability, and relevance to the industry's needs. Needless to say one advantage would be the facility with which they can transmit their knowledge to various categories of employment in GuySuCo."
In the case of Agriculture the following candidates were submitted: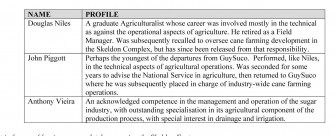 "iii)   Not in favour of foreigners completely managing the Skeldon Factory
"… a conclusion can better be reached if it were informed by a comprehensive audit of existing skills, and competencies; and by a complementary identification of the skills gaps. Such an approach should facilitate a cogent discussion by your board, and hopefully lead to a more precise plan for the retention, recruitment, and importation of the necessary skills, as necessary."
The following Human Resources Management Personnel could help in this regard: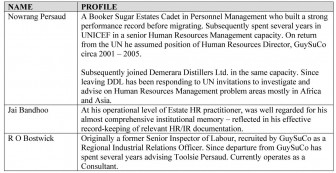 "A fundamental implication of bifurcating the management of the Skeldon production operations into 'foreign' factory and 'local' agriculture is the almost inevitable lack of consistency in dealing with labour issues, particularly as the latter would involve not only the representative unions, but also of the requirement to observe the industrial relations process mandated by the relevant labour laws.
"The mechanisms for achieving a synthesis in labour management will have to be carefully devised. 'Foreigners' must therefore be subject to a thorough orientation programme. Their contracts must include Terms of Reference related to specific areas of control, and must include a time schedule of achievement of identified targets."
The following comment is now added:
It is therefore felt in many circles that the management of the entire problem at Skeldon field and factory, should be undertaken by one set of competent managers as a complete project, rather than one divided by factory and field teams of management; since in the end it will have to be a complete coordination of both which will supply the resolution of the problem.
Available 'factory' expertise includes the following: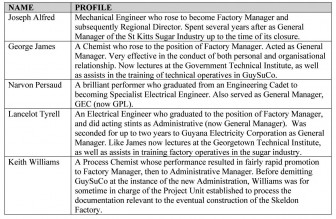 Needless to say, there has not been the courtesy of an acknowledgment. One interpretation of this mute form of response may run like this: 'I have been placed in charge because I know – indeed so much more than any other locals, that only foreigners could help me now.'
If this sounds corny, it is precisely because it is. This view is reinforced by the following analysis of a publication as KN of January 17, 2012 titled: 'Sugar production increased by 16,000 tonnes.'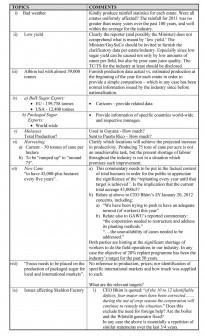 This correspondent would welcome any evaluation of the above reproduction of the published discourse.
In the meantime it would be helpful if stakeholders were more factually informed of the related production data on the following operational components of GuySuCo:
Berbice: Albion; Rose Hall; Blairmont (including the packaging plant)
Demerara: Enmore (including the packaging plant); Wales; Uitvlugt
And as a matter of at least acknowledgment, what was the contribution of cane farmers in actual tonnages, as a proportion of total production, comparative yields, and price paid to farmers for cane supplied?
Yours faithfully,
E B John
Around the Web