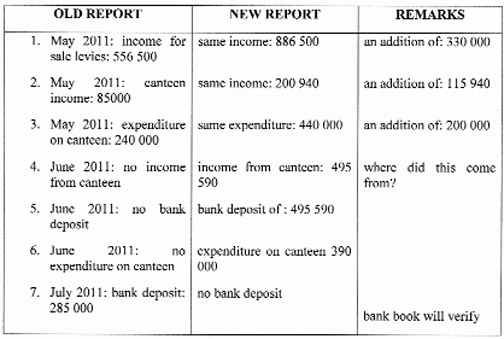 Dear Editor,
Over the past twenty years a recurring problem of unaccountability and lack of transparency has plagued successive village councils of Orealla and Siparuta, and the outgoing OVC is no different. The final financial report of the outgoing council has been rejected by the residents and we are urging the Ministry of Amerindian Affairs not only to conduct an audit, but also an urgent investigation into the various discrepancies, imbalances and excessive expenditures revealed in the report.
I must explain that one of the major discrepancies involved a part of the report (from Aug 2010-Aug 2011) which was presented at a General Meeting on Wednesday November 16, 2011. This part which contained a lot of questionable expenditures, withdrawals from the bank (Republic Bank), and loans given out and various inconsistencies, was not discussed at that meeting because of the time constraints. The council promised to call another meeting before yearend (ie, 2011) to discuss the report and to present reports for Sept 2011 and Oct 2011. However, no meeting was called until that which was held on Monday, April 2 of this year. At this meeting we were told by the Treasurer that we had to ignore the report given in November last year because she had made one major correction in that report.
But when we compared the two reports, there were seven changes as follows: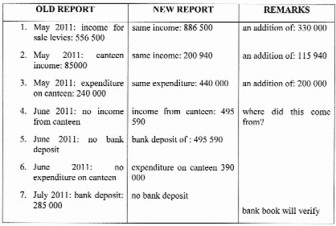 Apart from the above, let me point out other observations in the report the council submitted.
i.  An amount of $619 085. was spent on the village water system from Jan 2011 to Feb 2012 – an amount which the pump attendant has disclaimed. According to his record, this is in excess of $300 000.
ii.   The village canteen: (period: Aug 2010 to Feb 2012)
Total expenditures on canteen: 3 134 015
Total income from canteen:            866 530
Total to account for:                  $  2 267 485 (+ profits)
NB A look in the canteen right now shows an estimate of $60,000 in stocks.
iii.  Loans: (period: Jan 2011 to Feb 2012)
Given out:                  885 000
Repaid:                        241 800
Outstanding:             643 200
NB No record was produced to show where these outstanding loans are.
iv.  Village council officials are still to account for various sums of money they either uplifted from the treasurer or withdrew from the banks as follows:
● Dec 2011 –     174 900
● Jan 2012 –       70 280
● Feb 2012 –  41 68 984
$4 414 164
NB The treasurer told the residents that when an official attempted to clear or account for some of the above amount, she refused to accept many of the receipts because these receipts appeared fictitious.
v.  No financial report was given for March 2012.
Editor, there are other very questionable expenditures and loans eg, to the village boat (not reflected in the boat reports) to the village tractor, the village sawmill and the village stelling. Also we want a clear understanding of the council's bank deposits and withdrawals and what these withdrawals were spent on.
We understand that the Minister of Amerindian Affairs will visit Orealla on Saturday, April 14, 2012, with a team of auditors. Previous councils' records were audited but no investigation was done to hold anyone responsible for irregularities or wrongdoing and have them pay the consequences.
From the council's reports, at least $48 7000 000 entered the village treasury between Aug 2010 and Feb 2012 through sand levies and presidential grants and from other sources. I must finally point out that before the death of (the late) Captain McLean Devair in September last year, the Treasurer  was unable to complete her financial reports so the village went through last year and even from Augist 2010 to the present without a proper, correct financial report.
Yours faithfully,
Carl Pemeux                 
Around the Web