Junior's Jewellery and Pawn Shop for the sixth consecutive year will be donating a gold chain to the highest goal scorer in this year's NAMILCO Football Festival.
In a simple ceremony at the business' Robb Street location, proprietor Ferdinand 'Junior' Bacchus expressed his delight in giving back to the sporting community, particularly the NAMILCO Football tournament which is organised by Fruta Conquerors Football Club.
"Ever since I was approached six years ago for this support, I continue to do so without hesitation because it directly and indirectly supports the development of youths in our beloved society through the game. I am happy for the tournament and wish it every success," Bacchus said.
Eon Alleyne, captain of  Fruta Conquerors, thanked Bacchus and his company for their continued support and faith in the club and the NAMILCO Football Festival.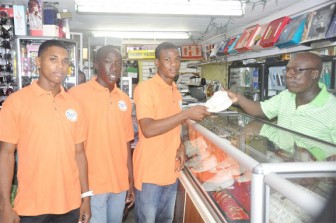 He also challenged himself and players to ensure that the player who will receive the prize will be deserving of it, since that player will be forced to score in excess of seven goals from a maximum four matches.
According to Alleyne, a lesser tally of goals will not be sufficient because many teams, including "Fruta Conquerors, have prolific goal scorers who will be on show during the tournament.
The tournament gets underway  on January 29 at the Tucville ground with two matches.
At 18:00 hours Sunburst Camptown will do battle with the University of Guyana, while the feature match brings together Beacon and Northern Rangers. The winner of this year's competition will walk away with $1,000,000.
Around the Web